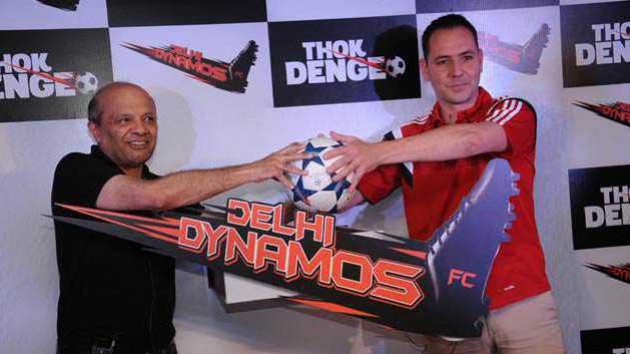 Feyenoord international relations manager Gido Vader feels that India could be the next big football hub following the launch of the highly anticipated Indian Super League.
Vader, whose side have announced a link with ISL franchise Delhi Dynamos, was in India during the club's official launch last month.
The alliance with Feyenoord, who finished second in the Eredivisie last season, will probably see the influx of Dutch players to the Indian capital, with the Dynamos bringing in a number of Dutch players including strikers Mads Junker, Morten Skoubo, central defender Stijn Houben and defensive midfielder Hans Mulder.
However Vader, whose club has produced some top class players including Robin van Persie, Ron Vlaar and Dirk Kuyt in the past, feels that India may be the next country to produce some World class players in the future.
"Who knows? Maybe we find the latest talents from here," he told ISL's official website.
Meanwhile, Vader, whose side will primarily be acting as a "advising partner" for the Dynamos, lending them their expertise to help them build their squad, says that Feyenoord will also be providing some administrative assistance to the capital club.
Vader explained that he wants to help the Dynamos build a similar indentify as Feyenoord, who are known as a "club of the people" in Holland.
"You will find fans of Feyenoord in any city or village of the Netherlands, and we have fans from all walks of life. So we're really a club that unifies people," the Dutchman added.
Vader added that he wants the Dynamos to "represent the city of Delhi and appeal to the public" and develop into a club that "people can identify with".
The Dutchman says that a "genuine love of football" shared by both Feyenoord and the Delhi Dynamos brought them together.
Vader added, he and his colleagues at Feyenoord were very impressed by Dynamos owners DEN Networks' vision of "how to contribute to the progress of Indian football."
Feyenoord had reportedly recommended more players to the Dynamos but the ISL club could not sign them due to financial issues.
"Feyenoord had advised the Dynamos to sign some former players like Kaj Ramsteijn, Serginho Greene, Romeo Castelen and Darley, but they are not coming because of financial reasons," a source close to the Dutch side told the Hindu.
Dynamos will kick off their ISL campaign with a home game against Pune City FC at the Jawaharlal Nehru Stadium, Delhi on 13 October.