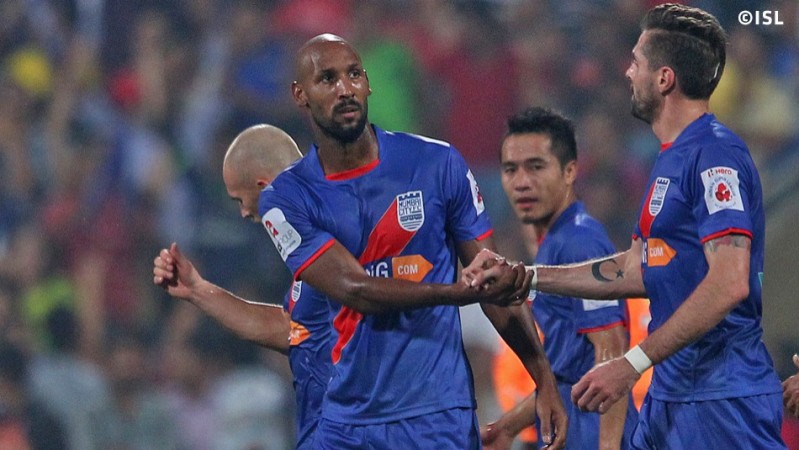 Nicolas Anelka, who is one of the high-profile players of the Indian Super League, has been handed more responsibility with Mumbai City FC this season as he is the coach-cum-player for the franchise.
The former Liverpool striker is happy with the squad this season and wants to win the second edition of the ISL. Mumbai City FC had a forgetful inaugural edition of the ISL, where they finished seventh, but with Sunil Chhetri in their line up in the second edition, the club will be expected to come up with a better performance.
"We have a great squad this season so we are going to give our best out on the pitch. We want to do better than last season. We want to win this year's ISL. The new head coach role will be tough (for me) but we have a big squad and a better team this year," First Post quoted Anelka as saying.
"We have games every 4-5 days so we have to be able to understand everything and we have an advantage since our players do have the experience of playing at a high level."
Having played in some of the top leagues around the world for big football that include Real Madrid, Arsenal, Liverpool and Chelsea, the French striker has plenty of experience to share with his fellow players in the dressing room.
The Frenchman seems to be geared up for the second edition of the ISL as he opened up about his new role as well, which is not going to be any easy, considering the level of competition one saw last year in the ISL.
Anelka also stressed on the need of good defence to be a strong team in the ISL.
"Everyone will take care of defensive coaching this year. Oscar, me and Nishant will speak a lot this year, we will communicate and watch a lot videos and even if I am a striker I know a little bit of defense, besides that we will decide our tactical approach and decide on your defense. Attack is as good as our best defense. And first you have to be able to defend well before you attack and get the goals in. There's no point scoring the goals if you can't defend them," said Anelka.
"When forwards grow older they tend to play a more withdrawn role. You know, as you grow older you have to be clever. To be clever is to know your body and to know that you are not able to do what you could do. If you are clever and you have the quality to drop a little bit you can prolong your playing career."
"It's what I did last season. and I want to do this even more this season. We have a better squad, we have the ability to rotate players this year," he said.