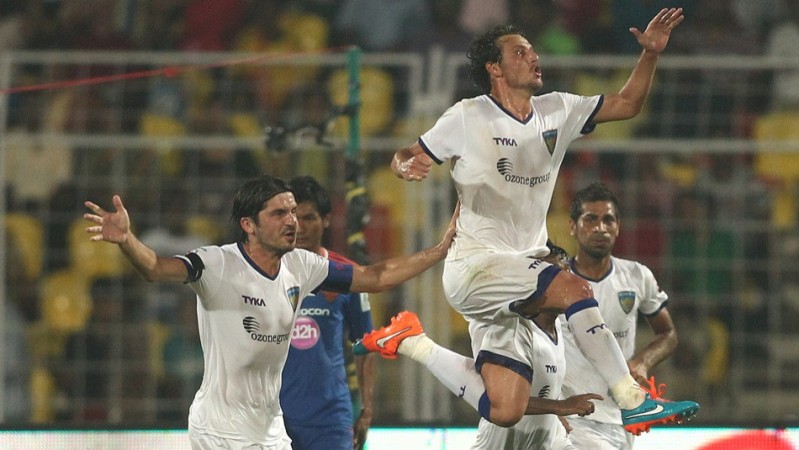 Chennaiyin FC player-manager Marco Materazzi says that he is pleased with his side's performance following a 2-1 victory over FC Goa in their Indian Super League opener in Margao.
Although Zico's FC Goa were the favourites to win this game due to them having home advantage and a very strong side led by Robert Pires, it was Materazzi's side who triumphed, becoming the first side to record an away victory this season.
Strikes from Balwant Singh and Elano, who became the first Indian and marquee player respectively to score in the ISL, proved enough as Goa were only able to net a second half consolation through Gregory Arnolin.
While Materazzi gave credit to Goa for playing well in the second half, he felt that his team were better before the break.
"They played very well, especially in the second half. They scored a goal and they came close. But after the first 10 minutes of the first half, we played very well. I would like to give credit to my players and myself for this performance," the former Italy defender was quoted as saying by Goal.
Despite there being suggestions of Chennaiyin being very physical against Pires during the match, the 41-year-old insisted that the former Arsenal man is used to such tactics, having played in the English Premier League.
"Pires has played in England before, so he knows what a physical game football can be. Both for them and for us. But this is football and it will be physical during the game. But at the end of 90 minutes - finished. We are friendly," he added.
Meanwhile, Goa boss Zico wasn't too impressed with Chennaiyin FC as he felt that Materazzi's side employed negative tactics to win the game.
"They are an experienced team no doubt. They faked injuries, they made hard tackles," said the Brazilian legend. "They showed their experience in the way they played. Our team played football. Their team didn't."
However, he insists that he is satisfied with his team's performance despite losing the game.
"I am very satisfied with how the team performed. According to me the team played really well. They created many opportunities to score. We had very good control over the game. They ran really very fast and well. They fought a good fight," the 61-year-old added.
"The other team had opportunities, and they scored two goals. So that's the thing with football. I think the important thing is that the players fought until the last minute."
Although admitting his disappointment following Goa's loss to Chennaiyin, Zico is certain that his side will make a comeback in their next fixture.
"It was not the result what we wanted, but we carry on and try our best and overcome this loss. Losing a game at home is never good," he said.