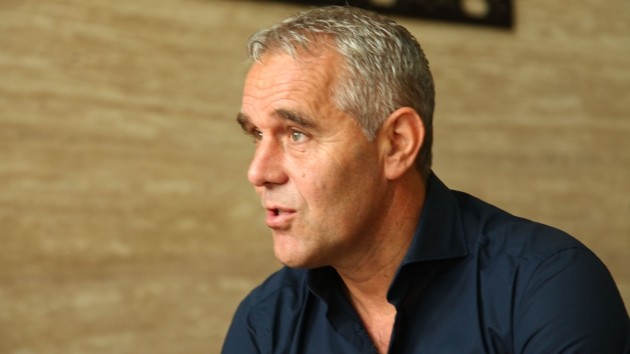 Delhi Dynamos boss Harm van Veldhoven says that he is looking to introduce an "attacking brand of football" at the club so that his side will be able to entertain fans in the inaugural season of the Indian Super League.
The Dutch-Belgian boss, who has managed sides including Cercle Brugge , Beerschot AC (both Belgium) and Roda JC Kerkrade (Netherlands) in the past, is known to be a very attack-minded manager, preferring to win games by scoring more goals rather than defending.
Due to this reason, the Dynamos are expected to lead the goalscoring charts in the upcoming Hero Indian Super League.
And the 51-year-old-year-old boss insists that the fans will not be bored when his Dynamos take the field in the ISL.
"My teams always play an exciting, attacking brand of football," van Veldhoven told the ISL's official website. "We build from the back and move the ball very quickly in midfield. I always tell my team, do not rest on your laurels once you have scored, go for another one."
Despite admitting that all the focus on attacking and scoring goals will make the Dynamos vulnerable at the back, van Veldhoven is confident that his side will be able to outscore the opponents like Liverpool did in the 2013/14 season.
"I agree that the other teams will find some gaps in our backline when we are pressing forward, but if we follow our game-plan, we will probably outscore them," added the Holland-born manager.
The former FC Brussels boss says that he is satisfied with the Dynamos squad and the signings they made this summer.
"I am very happy with the squad I have got. There is an excellent mix of players," he added. "We have some quality internationals who have had the experience of playing in Europe and some really great Indian boys who I am sure will do well. The drafts went very well for us. We got what we were looking for."
He added that he is especially glad to have Italian legend Alessandro Del Piero in the squad.
"When you have a world class player in your squad, one who has achieved so much in his career, you cannot be anything but glad," van Veldhoven added. "I have had the chance to speak to him about his role in the team and the challenges that lie ahead of us. I can tell you that he is very excited and cannot wait to begin."