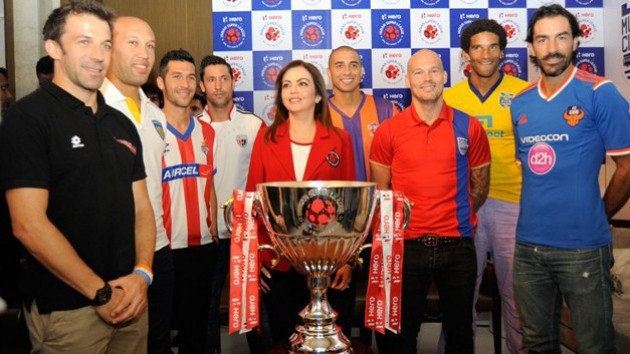 With India looking to become the next destination for ageing star footballers, the eight clubs had to spend some serious cash to attract these players and stop them from moving to the USA or the Middle East.
A few years ago no one would have ever imagined that players like Alessandro Del Piero, Nicolas Anelka, Luis Garcia, Freddie Ljungberg, Robert Pires and David Trezeguet would be playing in the subcontinent.
And now they are all here as India look to improve the overall quality of football in the country.
India, who have already managed to attract the best cricketers in the world via the IPL with some lucrative offers, are now looking to do the same in the Indian Super League.
While most clubs usually offer a minimum one-year deal to players, ISL clubs have signed players on a four-month deal as the competition will be over in 70 days.
This will prove to be more beneficial to the players as they will be able to earn well in a short period of time rather than spending a whole year at another club.
Probably due to this reason many former star players chose to join the ISL instead of other leagues.
Delhi Dynamos have spent the highest on an individual player in this inaugural season, with them splashing a reported ₹10.8 crore ($1.7 million), according to the Times of India, on Juventus legend Alessandro Del Piero, who was getting only $1.4 million (₹8.5 crore) per year at his previous club Sydney FC.
Former Chelsea striker Nicolas Anelka is the next highest paid player in the ISL, with the Frenchman earning a reported ₹5.4 crores ($884,658) at Mumbai City.
Former Manchester City midfielder Elano is the third highest earner in the ISL with Chennaiyin FC paying him a reported ₹4.8 crore ($786,363) for a four-month deal.
Pune City FC's David Trezeguet is next on the list of top earners with a reportedly salary of ₹4.5 crore ($737,215) followed by FC Goa's Robert Pires and Mumbai City's Freddie Ljungberg, who are reportedly earning a salary of ₹4.1 ($671,685) crore and ₹4 crore ($655,302) respectively.
Chennaiyin FC's Mikael Silvestre, Kerala Blasters player/manager David James, Atletico de Kolkata's Luis Garcia and NorthEast United's Joan Capedevilla are next on the list with a reported salary of ₹2.85 crore ($466, 903), ₹2.70 crore ($442,329), ₹2.70 crore ($442,329) and ₹2.25 crore ($368,607) respectively.
Meanwhile, Mumbai City's Subrata Pal and Syed Rahim Nabi along with Chennaiyin FC's Gouramangi Singh are the highest paid Indian players in the ISL with a salary of ₹80 Lakhs ($13,106) each.