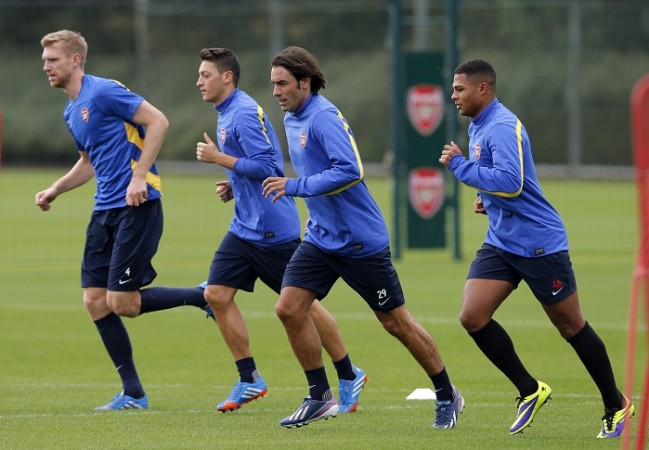 Arsene Wenger and his Arsenal team have not quite made their way to India yet, but the manager did play a big part in helping the football-crazy fans of this country witness one of the English Premier League legends in the flesh.
Robert Pires, known best for his glory days at Arsenal, including the famous "Invincibles" side, will ply his trade in India for a few months after signing with FC Goa in the Indian Super League.
And the midfielder, whose curlers into the top corner after cutting in from the left wing were one of the joys to behold in Premier League football of the early noughties, revealed it was Wenger who pushed him to play in India once the opportunity came knocking on his door.
"He told me if you can play in India, you need to go," Pires said after touching down in India. "You love football and you have the passion, the message from Arsene Wenger for me was that you go [and play in India].
"Wenger is like my second daddy. For me it was very positive to work with him in the six seasons, so when I explained this project in India he asked me not to hesitate."
Many might question Pires' relevance as a football player having retired three years ago from the game, but the World Cup winner insisted he is still pretty fit as he keeps training with his former club Arsenal at London Colney.
"I retired three years ago but I am still training with Arsenal because I have a good relation with the club and Arsene Wenger," he said. "So it's been easy to come out of retirement. My passion is football and I can still play. I am here, I am excited and I am looking forward to the league."
The Arsenal team, during Pires' time, were not exactly known for the fourth-place finishes that have been the order of the day of late – they were winners, who kept fighting for the Premier League title. And as far as Pires is concerned, he has not come to India to be one of the thousands of foreign tourists in Goa.
"I know that the weather is hot but I am ready and training very hard," Pires added. "I am like an ambassador for France, for FC Goa and I have a lot of responsibility on my shoulders.
"I feel the pressure but I like it. I am a professional and not a tourist. Tomorrow I meet my team mates and the objective for me is to win the title."
Pires is among a number of former stars set to light up the ISL, with the former Arsenal and France international set to be joined by the likes of Freddie Ljungberg, another Arsenal legend, David Trezeguet, Nicolas Anelka, Alessandro Del Piero, Marco Materazzi, David James, Mikael Silvestre and Elano, to just name a few.
As far as Pires is concerned, ISL could be the tournament that could spark a bright future for Indian football.
"I am sure the Indian Super League will be a success," said the winger, who will turn 41 next month. "I have passion, I am ready and I am fit, I will like to win and I would like to train the Indian players for the future because I think you have a good future."