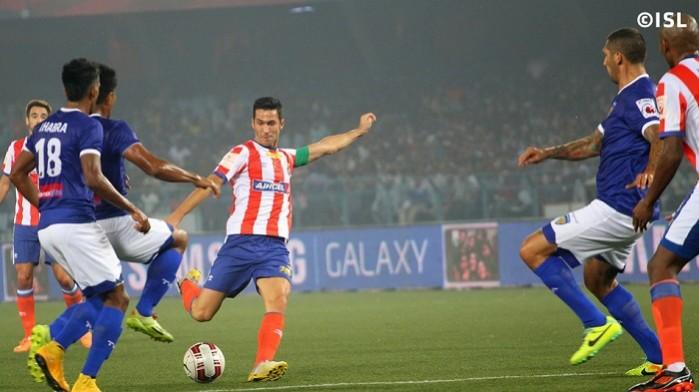 The second season of the Indian Super League (ISL) will start from 3 October, 2015. The official website of the ISL announced the complete fixture for the upcoming season on Friday.
The league stage will have 56 games in a home and away format. These games will be followed by the two-legged semi-finals and then the big final on December 20, 2015. The venue for the final is yet to be decided. All the matches will start from 19:00 (IST).
Chennai will host the opening ceremony of the second edition of ISL. The first game of this year's Indian Super League will see Chennaiyin FC taking on defending champions Atletico de Kolkata on 3 October at the former's home ground, the Jawaharlal Nehru Stadium.
The first edition of ISL was a runaway success and also achieved the feat of the fourth most-watched football league in the world. For the first time in the history of Indian football, players such as Alessandro Del Piero, David Trezeguet, Elano Blumer, Luis Garcia, Marco Materazzi and others played alongside Indian footballers.
Here is the complete fixture of ISL 2015:
Match
Date
Day
Home Team
Away Team
Time (IST)
1
3 Oct
Saturday
CHENNAIYIN FC
vs
ATLÉTICO DE KOLKATA
7:00 PM
2
4 Oct
Sunday
FC GOA
vs
DELHI DYNAMOS FC
7:00 PM
3
5 Oct
Monday
MUMBAI CITY FC
vs
FC PUNE CITY
7:00 PM
4
6 Oct
Tuesday
KERALA BLASTERS FC
vs
NORTHEAST UNITED FC
7:00 PM
5
7 Oct
Wednesday
ATLÉTICO DE KOLKATA
vs
FC GOA
7:00 PM
6
8 Oct
Thursday
DELHI DYNAMOS FC
vs
CHENNAIYIN FC
7:00 PM
7
9 Oct
Friday
FC PUNE CITY
vs
NORTHEAST UNITED FC
7:00 PM
8
10 Oct
Saturday
KERALA BLASTERS FC
vs
MUMBAI CITY FC
7:00 PM
9
11 Oct
Sunday
FC GOA
vs
CHENNAIYIN FC
7:00 PM
10
13 Oct
Tuesday
ATLÉTICO DE KOLKATA
vs
KERALA BLASTERS FC
7:00 PM
11
14 Oct
Wednesday
DELHI DYNAMOS FC
vs
FC PUNE CITY
7:00 PM
12
15 Oct
Thursday
CHENNAIYIN FC
vs
MUMBAI CITY FC
7:00 PM
13
16 Oct
Friday
NORTHEAST UNITED FC
vs
FC GOA
7:00 PM
14
17 Oct
Saturday
DELHI DYNAMOS FC
vs
KERALA BLASTERS FC
7:00 PM
15
18 Oct
Sunday
FC PUNE CITY
vs
ATLÉTICO DE KOLKATA
7:00 PM
16
20 Oct
Tuesday
NORTHEAST UNITED FC
vs
CHENNAIYIN FC
7:00 PM
17
21 Oct
Wednesday
FC GOA
vs
KERALA BLASTERS FC
7:00 PM
18
22 Oct
Thursday
DELHI DYNAMOS FC
vs
MUMBAI CITY FC
7:00 PM
19
23 Oct
Friday
NORTHEAST UNITED FC
vs
ATLÉTICO DE KOLKATA
7:00 PM
20
24 Oct
Saturday
CHENNAIYIN FC
vs
FC PUNE CITY
7:00 PM
21
25 Oct
Sunday
FC GOA
vs
MUMBAI CITY FC
7:00 PM
22
27 Oct
Tuesday
FC PUNE CITY
vs
KERALA BLASTERS FC
7:00 PM
23
28 Oct
Wednesday
MUMBAI CITY FC
vs
NORTHEAST UNITED FC
7:00 PM
24
29 Oct
Thursday
ATLÉTICO DE KOLKATA
vs
DELHI DYNAMOS FC
7:00 PM
25
30 Oct
Friday
FC GOA
vs
FC PUNE CITY
7:00 PM
26
31 Oct
Saturday
KERALA BLASTERS FC
vs
CHENNAIYIN FC
7:00 PM
27
1 Nov
Sunday
MUMBAI CITY FC
vs
ATLÉTICO DE KOLKATA
7:00 PM
28
4 Nov
Wednesday
DELHI DYNAMOS FC
vs
NORTHEAST UNITED FC
7:00 PM
29
5 Nov
Thursday
KERALA BLASTERS FC
vs
FC PUNE CITY
7:00 PM
30
6 Nov
Friday
CHENNAIYIN FC
vs
FC GOA
7:00 PM
31
7 Nov
Saturday
MUMBAI CITY FC
vs
DELHI DYNAMOS FC
7:00 PM
32
8 Nov
Sunday
ATLÉTICO DE KOLKATA
vs
NORTHEAST UNITED FC
7:00 PM
33
10 Nov
Tuesday
FC PUNE CITY
vs
FC GOA
7:00 PM
34
11 Nov
Wednesday
KERALA BLASTERS FC
vs
ATLÉTICO DE KOLKATA
7:00 PM
35
12 Nov
Thursday
CHENNAIYIN FC
vs
NORTHEAST UNITED FC
7:00 PM
36
13 Nov
Friday
FC PUNE CITY
vs
MUMBAI CITY FC
7:00 PM
37
14 Nov
Saturday
DELHI DYNAMOS FC
vs
ATLÉTICO DE KOLKATA
7:00 PM
38
15 Nov
Sunday
NORTHEAST UNITED FC
vs
KERALA BLASTERS FC
7:00 PM
39
17 Nov
Tuesday
MUMBAI CITY FC
vs
FC GOA
7:00 PM
40
18 Nov
Wednesday
ATLÉTICO DE KOLKATA
vs
CHENNAIYIN FC
7:00 PM
41
19 Nov
Thursday
FC PUNE CITY
vs
DELHI DYNAMOS FC
7:00 PM
42
20 Nov
Friday
NORTHEAST UNITED FC
vs
MUMBAI CITY FC
7:00 PM
43
21 Nov
Saturday
CHENNAIYIN FC
vs
KERALA BLASTERS FC
7:00 PM
44
22 Nov
Sunday
FC GOA
vs
ATLÉTICO DE KOLKATA
7:00 PM
45
24 Nov
Tuesday
CHENNAIYIN FC
vs
DELHI DYNAMOS FC
7:00 PM
46
25 Nov
Wednesday
FC GOA
vs
NORTHEAST UNITED FC
7:00 PM
47
26 Nov
Thursday
MUMBAI CITY FC
vs
KERALA BLASTERS FC
7:00 PM
48
27 Nov
Friday
ATLÉTICO DE KOLKATA
vs
FC PUNE CITY
7:00 PM
49
28 Nov
Saturday
NORTHEAST UNITED FC
vs
DELHI DYNAMOS FC
7:00 PM
50
29 Nov
Sunday
KERALA BLASTERS FC
vs
FC GOA
7:00 PM
51
1 Dec
Tuesday
MUMBAI CITY FC
vs
CHENNAIYIN FC
7:00 PM
52
2 Dec
Wednesday
NORTHEAST UNITED FC
vs
FC PUNE CITY
7:00 PM
53
3 Dec
Thursday
DELHI DYNAMOS FC
vs
FC GOA
7:00 PM
54
4 Dec
Friday
ATLÉTICO DE KOLKATA
vs
MUMBAI CITY FC
7:00 PM
55
5 Dec
Saturday
FC PUNE CITY
vs
CHENNAIYIN FC
7:00 PM
56
6 Dec
Sunday
KERALA BLASTERS FC
vs
DELHI DYNAMOS FC
7:00 PM
Semi-Finals: Leg 1
S/F 1
11 Dec
Friday
TBD vs TBD
7:00 PM
S/F 2
12 Dec
Saturday
TBD vs TBD
7:00 PM
Semi-Finals: Leg 2
S/F 3
15 Dec
Tuesday
TBD vs TBD
7:00 PM
S/F 4
16 Dec
Wednesday
TBD vs TBD
7:00 PM
Final
20Dec
Sunday
TBD vs TBD
7:00 PM