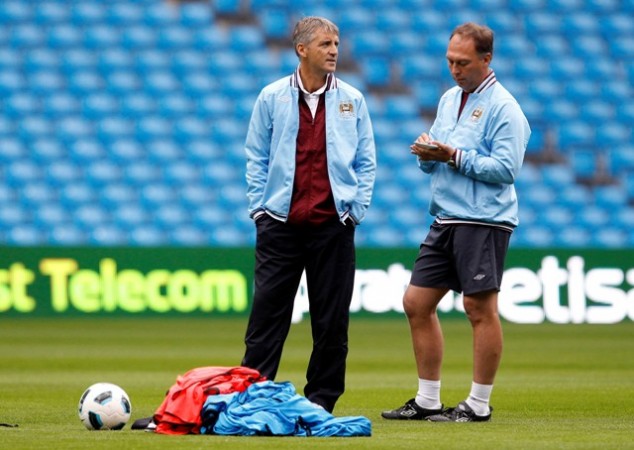 David Platt, the newly-appointed manager of Indian Super League (ISL) side FC Pune City, has stated that plans are perfectly in place for the side to add new players, as they look forward to ISL 2015.
A very calculated move by Pune City on the day of the ISL Player Auction last week saw the Hrithik Roshan co-owned side lap up two promising Indian players – Eugeneson Lyngdoh and Jackichand Singh.
Eugene had won the Best Midfielder of the I-League Award for his impressive performance with Bengaluru FC last season, while Jackichand bagged the Best Player of the I-League Award after a dream-of-a-season with Royal Wahingdoh.
The duo cost Rs 1.5 crore for the side, with Eugene making headlines for commanding Rs 1.05 crore and Jackichand for his Rs 45 lakh.
Now the attention shifts to international players, and the former Manchester City assistant coach to Roberto Mancini has said that they have already have 'a clear idea of the international players' they need to pursue this summer.
"We have our methods. Work is already in full swing. We're not thinking to ourselves 'Right, we have the domestic players, who are we going to get next?' We have been running both lines concurrently," Platt told Goal India.
"We have a clear idea of the international players who we've made connections with. Some have said no, some already have other options, some have discussions ongoing. Some players move to Europe and you have to look at other talent. Even after the auction, we were looking at what we need, to compliment what we already had. We came here and started immediately," he explained.
The 49-year-old former Juventus player stated that his side is constantly striving to have the best-possible squad to become top challengers in ISL 2015.
Platt said that now that the domestic players have been lapped up, the side can concentrate on getting foreign players who can provide that much-needed edge to the side.
"We put things on the board and said, 'Okay, these are the players (domestic now).' Maybe we were going down a different line with an international player and now we need to change again. So, we're constantly moving. The good thing is that the domestic players are now done. We can put that to one side. What is done is what we've got.
"Now, we can look to complete the jigsaw and create a balanced, strong group of players and not a starting eleven," the Englishman explained.
"We have the players, we need to make the inroads and stay patient ensuring we're going after our primary targets, not just the first player who says yes. If we can get nine out of 11 players and only have quick decisions to make in the final two, I'll take that," said Platt.
He has mentioned that he is focused on lifting the championship this year and it is his desire to coach a winning team.
"If I was coming out here and there was no desire or will to win, then I wouldn't do my job very well, because the focus wouldn't be there," said Platt.
Under Italian coach Franco Colomba, the Pune franchisee finished sixth in ISL 2014.