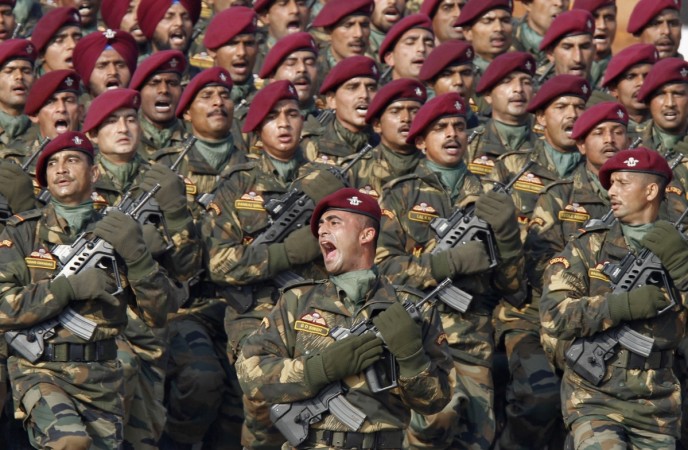 Retired Major Tom Conway, one of the last surviving British officers who had commanded Indian soldiers, has said that Indian soldiers were the bravest ones and that it was an honour to lead them.
Major Conway had come to India after 80 years to attend the inaugural ceremony of War Memorial in Amritsar. "Indian soldiers were the bravest of the brave. It was an honour to command them," 98-year-old Conway told the Hindustan Times.
The World War II veteran, who joined the British Army in April 1940, had commanded the Dogras, Sikhs and Pathans after joining the Guides Cavalry.
"I volunteered to join the Indian Army in Egypt. I had heard and read so much about India. I had read Rudyard Kipling and I was also impressed from the tales of valour of the Indian soldiers... Dogras were the quietest. It was being said that they were easier to command. But they were all good. I used to take train from Pathankot to Kullu valley which used to run at ten past midnight daily. I used to visit Dogra soldiers' families to get to know them better," Major Conway told the daily.
The Guides Cavalry was a reconnaissance regiment for Eight Indian Division in Egypt in 1941. Major Conway later went to Syria, after which he was sent to Sudan where he commanded the Sikhs.
"First time in 3 years, Germans had a major defeat. Churchill (Winston) said it was not the end of war, but the beginning of the end. Our job was to keep the Army chasing," the major said about the Battle of Alamein that took place in Egypt in November 1942. He was sent to Iraq following the battle to check Germans from the North. However, the Germans attacked Russia and then retreated.
"By the beginning of 1943, there was no threat to the Middle East. I was sent to India. I was to engage in Burma (Myanmar) with 15 Indian Division but was sent to North West Frontier area as small-scale battles were going on there. I commanded Dogras there," Major Conway added.
The retired major, who married a Chinese teacher, went to Britain for a month in 1944, following which he commanded the Indian contingent in London before retiring in 1946 after the victory parade, the daily reported.
"It is wrong to say that the British only recruited martial races in India. In the 18th century, most of the soldiers in the Army used to be from the Southern parts... I would love to go back to Kullu valley again... Though I do not know whether I would be able to make it," Conway further added.