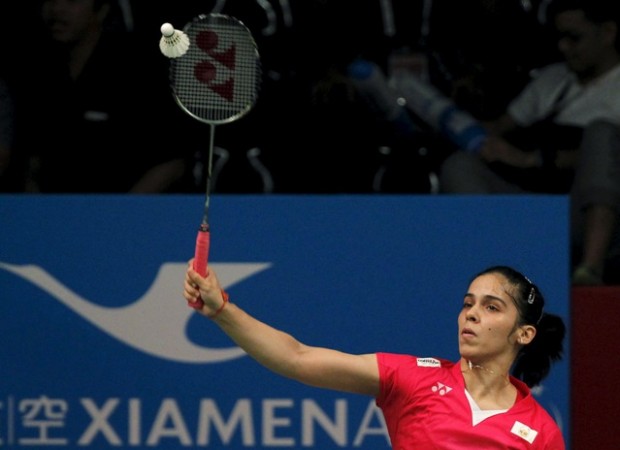 Just hours after regaining her numero uno position in the World Rankings, Badminton sensation Saina Nehwal signed a reported two-year deal with sports marketing firm IOS Sports & Entertainment, that will see her pocket a whopping Rs 25 crore.
The 25-year-old Indian overtook Carolina Marin of Spain to once again return to the top spot in the latest Badminton World Federation (BWF) rankings released just yesterday. Incidentally, Marin defeated Nehwal in the final of the World Championships 2015 in Jakarta on Sunday.
However, the feat of becoming the only Indian to reach the final of the prestigious competition seems to have given her a plethora of points to move up to the to be the best female shuttler in the world at the moment.
And the celebration of returning to the top has become more exciting after Nehwal penned the whopping endorsement deal, that will further boost her career.
"Now we have signed up to work exclusively with her. She is the world No. 1 now and she needs a bit of management and backing now," Neerav Tomar, managing director and chief executive of IOS Sports, told the Economic Times.
Saina is currently one of the highest paid women athletes in India, and she pockets around Rs 5 crore to Rs 7 crore a year through as many as 10 endorsement deals, which also includes digital ads.
One of India's most prominent female boxers, Mary Kom, also earns around Rs 4 crore to Rs 6 crore a year from endorsements.
Saina's whopping Rs 25 crore deal with IOS Sports for two years would largely depend on how she fares at the Rio Olympics next year. Her consistency to be the World No 1 for as long as possible in the next two years is also crucial to see if the endorsement deal gets extended.
Saina currently demands around Rs 75 lakh a year on every brand endorsement, and with her getting back to the top of the rankings and making a number of records for the country on the way, Tomar expects that her brand value could rise to around Rs 1.25 crore per brand endorsement.
"She is one of the largest signings for IOS and the biggest star in India outside of cricket. Right now, there are 3-4 deals waiting to be finalised and the shirt deal will be announced in a few days. We're looking at a figure of ₹25crore, but that figure is dependent on her consistency and performance and on condition of winning gold at Rio," Tomar explained.
"We want to grow both her portfolio and pricing," he added.