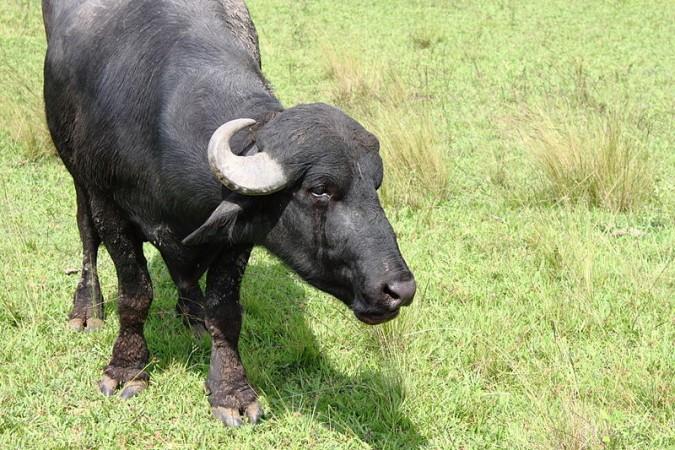 Researchers at the National Dairy Research Institute (NDRI), Karnal have cloned a female buffalo. The calf named 'Lalima' is the world's first clone to be produced using cells of an adult buffalo.
The clone buffalo took birth on 2 May 2014, and is reportedly normal and responding well, according to Hindustan Times.
Lalima is the seventh clone to be produced by NDRI. In 2009, the institute produced its first clone, though three of the cloned calves later died. Lalima took birth through surrogate Murrah buffalo and weighed about 36kg at the time of birth. The calf currently weighs 42 kilograms.
A team of biotechnology scientists led by Suresh K Singla, were involved in the successful cloning procedure. The researchers used somatic cells from an ear of "elite" murrah buffalo from the institute's farm animals that produce gallons of milk during the lactation period.
"It is for the first time in the world that a clone is produced from a high-milk yielding mature buffalo. Unlike, other clones produced by the NDRI scientists, Lalima did not show any symptom of abnormal calf. It was weighed 36-kg at birth time and its size was that of a normal buffalo calf," said AK Srivastava, director of NDRI.
In 2013, a calf was produced using the similar cloning technique but the clone survived only for three weeks after suffering from various ailments since its birth.
The announcement of achievement was unveiled only after the comprehensive DNA profiling was done by National Dairy Development Board (NDDB).
The aim behind the buffalo cloning is to produce clone of offspring tested bulls and buffaloes yielding high lactation, said Srivastava while announcing the achievement.
"Conventionally, when a sperm is fused with an egg, the offspring gets characters of both the parents. But with our latest technique, where somatic cells present in the ear were used, the clone will get genes of the female only. Though the world's largest population of buffaloes is in India and they contribute about 55% of the total milk production in the country, the percentage of elite buffaloes is very less and there is an urgent need to enhance the population of high milk-yielding buffaloes," Srivastava explained.
S Ayyappan, director general of Indian council of agricultural research (ICAR), while congratulating the scientists on their achievement on producing cloned calf from mature lactating animal though "hand-guided cloning" technique said it would definitely aid in multiplication of elite lactating animals and would reduce the ever increasing demand of milk.
A murrah buffalo is widely known to produce around 32 kilograms of milk everyday, which is almost twice of milk produced by an ordinary buffalo. A good murrah, usually can cost between₹1-2 lakh. But in 2013, a farmer from Andhra Pradesh bought a murrah buffalo for ₹25 lakhs from a farmer in Haryana.