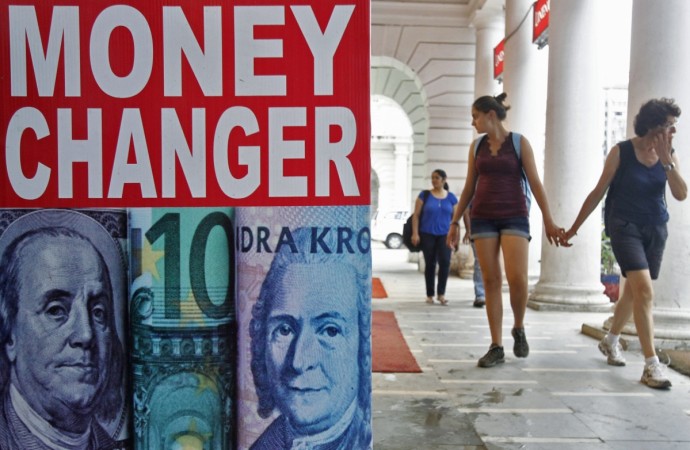 Buoyed by increased buying in debt and equity by foreign investors, the Indian rupee gained to hit a 14-week high against the US dollar on Friday. The domestic currency closed at 66.85 to the greenback. Foreign portfolio investors (FPIs) have been sustained buyers of both debt and stocks over the past few trading sessions, except on certain days. Direct and indirect tax collections for the 10-month period ending January 2017 increase by 10.8 percent and 23.9 percent, respectively.
Read: India's foreign exchange reserves increase by $1,500 million
The strengthening of the rupee would augur well for Indians planning their vacations abroad, as they will have to pay less in domestic currency to buy US dollars.
Data available on the National Securities Depository Limited (NSDL) showed that on February 10, FPIs were net buyers of debt worth $15.5 million but net sellers of stocks worth $22.6 million. On February 9, FPIs sold debt and stocks worth $27.8 million and $100 million, respectively.
The earlier days of trading saw FPIs lapping up debt and equity in a big way — February 8: debt $105 million and equities $40 million; February 7: debt $347 million and net sell position in equities at $65.8 million).
The Mint reported that FPIs purchased more than $800 million in the debt markets in last eight trading sessions and $700 million in equity markets in last two weeks.
The yield on India's 10-year bond yield ended at 6.86 percent on Friday. The BSE Sensex closed at 28,334 on Friday while the NSE Nifty ended at 8,793.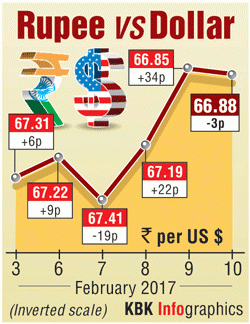 A highlight of the week was the Reserve Bank of India (RBI) leaving the repo rate unchanged at 6.25 percent at its sixth bi-monthly monetary policy meeting on February 7-8.
"While the market was split between whether or not RBI will cut the rate, the central banker has come out in favour of taking a more conservative stance. It is effectively a gear shift from 3rd gear to neutral straight! Global inflationary expectations also seem a consideration for such a stance," Lakshmi Iyer, CIO, (Debt) & Head of Products, Kotak Mutual Fund, said in a note.
The RBI had flagged three upward risks to inflation — higher oil prices, exchange rate volatility and impact of house rent allowance to Central government employees as proposed by the 7th Central Pay Commission.
Tax collections rise
India's direct tax collection for the period April 2016 to January 2017 rose 10.79 percent to Rs 5.82 lakh crore while indirect tax collections buoyed by 23.9 percent to Rs 7.03 lakh crore.