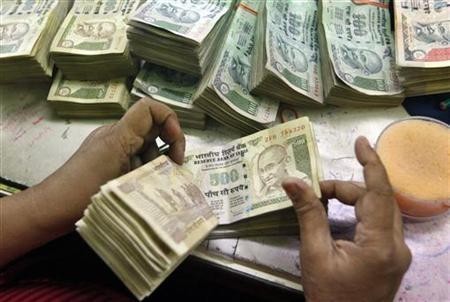 Rupee gained 10 paise at early trade on Monday at 59.08 a dollar against Friday's closing value of 59.18 per dollar when the market witnessed gush of local equities and heavy capital inflows.
According to a Reuters poll, the rupee will record gains next year, as optimism around BJP–led government and narrowing current account deficit will establish the Indian currency. Moreover, dollar's frailty over other currencies has supported Rupee's gain, forex dealers told The Hindu.
At 11:00 am, the rupee declined from 59.0550 to 59.08, while AUD-USD, NZD-USD and USD-JPY surged by 0.18 percent, 0.16 percent and 0.02 percent respectively. Therefore, among 13 Asia-Pacific Currencies, only three appeared to be escalating.
Monday witnessed other record breaking day, as the BSE Sensex and NSE Nifty rose by 0.91 percent and 1.07 percent respectively. The Nifty hit 7621.65 points, which is an increase by 38.25 points, while Sensex surged by 147.14 points reaching 25543.60. About 789 shares have driven up, while 72 shares declined. 25 shares have remained unchanged.
Top gainers from NSE were Grasim, Power Grid Corporation, Coal India, Ultra Tech Cement and ACC. However, ONGC, BPCL, HUL, M&M and Infosys lost out.
Moreover, RBI has been endeavouring to curb inflation through intervention in the markets. It was spotted buying dollars via state-run banks at ₹58.99-59.00 per dollar, traders told Reuters.
Finance Minister Arun Jaitley's met with bank merchants on Saturday in Mumbai with an agenda to pass key economic forums and raise foreign capital investment caps in various sectors of the economy. The aim of the new government is to come up with strong fiscal policy.
Chinese Yuan has been the worst performing currency in Asia so far this year, losing three percent against dollar. But it has been showing stability against the dollar. According to moneycontrol, Yuan is expected to trade at 6.24 a dollar by the end of June and further to 6.07 by May 2015.