When a man tried to book a cab ride Sunday from his Ola app in Bengaluru, India, to North Korea, he was hardly expecting a positive response. However, surprisingly, a cab was booked and he also received details such as the driver's name, number, and a one-time password to start the ride. His estimated bill was a whopping Rs 149,088 ($2,285).
Rohit Menda was amazed by Ola's response and took screenshots of the weird ride. He posted them on Twitter and tagged the Bengaluru-based ride-hailing company. Rohit wrote: "How is this possible @Olacabs a trip to North Korea? Please check your systems.#Ola"
Others also commented saying that they could also book the weird trip from Bengaluru to North Korea via Ola's app.
When it came to Ola's notice, they responded saying that the bizarre incident which happened with Rohit was a technical glitch and had been resolved.
The response from Olacabs was: "This seems to be a technical glitch. Please restart the phone and try again."
Despite mentioning in the tweet that it was a technical glitch, the Ola app still showed that the company was ready to accept bizarre trips.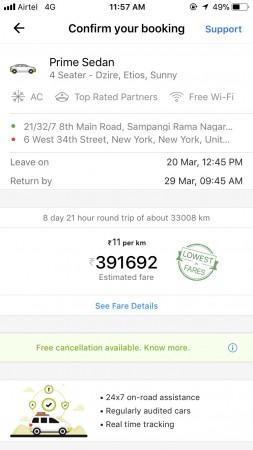 In fact, when IBT India tried to book an Ola cab from Bengaluru to New York, the Ola app mentioned 'confirm your booking' and showed a whopping bill of Rs 391,692 ($ 6,008). It showed that the round trip to New York would be of 8 days and 21 hours of about 33,008 km.
Ola issued another tongue-in-cheek response on Twitter.
When we said we wanted to shoot for moon, we didn't literally mean it ;) However, while we fix this issue, you can always take a flight to another country :)

— Ola (@Olacabs) March 19, 2018
A source in Ola also told IBTimes India that the company was in the process of putting checks for country and distance when taking bookings.