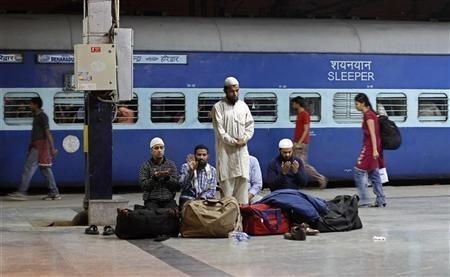 Indian Railway Minister Mallikarjun Kharge has launched an SMS-based ticketing system for the common man who can't afford internet costs or a smartphone.
"Since the mobile penetration in India has increased rapidly and more than 80 per cent people have mobile phones, this new system will be helpful in enabling booking of tickets by masses themselves," Kharge said in a statement.
Indian Railways Catering & Tourism Corporation (IRCTC) has come up with four options for passengers to book tickets without accessing the Internet. Besides the code 5676714, one can send SMS to 139 or the Airtel Money system *400# or the system where one needs to have a BSNL SIM powered by Pyro card enabled with Java computer language.
"Through this service, customer can not only book ticket but also can search for stations, trains, availability, PNR enquiry, make cancellation," IRCTC Chairman Shri Rakesh Tondon said.
For any of the options, the customer mobile number should be registered with IRCTC. Each SMS will cost ₹3 and the software will accept entries only in English. Also, one cannot book tickets between 8 am and noon.
Passengers can use this SMS confirmation as valid proof in place of hard copy for boarding any of the trains.
The facility allows for ticket cancellation as well. Nearly 45 percent of rail tickets are booked through the online website every day.
Book your ticket through SMS:
1. SMS booking through 139*
Register your mobile number with IRCTC as well as with your bank. The bank provides MMID (Mobile Money Identifier) and OTP (one time password) for authorisation of payment. (More than 25 banks are providing this facility)
Booking
Send SMS to 139 with the following syntax
Book (space) Train No. (space) From Stn Code (space) To Stn Code (space) Travel Date dd/mm (space) Class (space) Passenger Name (space) Age (space) M/F (space)
You will receive a Transaction ID along with other details.
Make payment by sending PAY to 139
PG or transaction charges are ₹5 if ticket amount less than ₹5,000 and ₹10 if more than ₹5,000
2. SMS booking through 5676714*
Register your mobile number with IRCTC as well as with m-wallet (mobile paying platform).
For the first time you need to send SMS to 5676717 with the following syntax:
START (space) IRCTC user id (only the first time for user authentication)
Booking
Send an SMS to 5676714 with the following syntax
BOOK (space) From Stn Code,(space) To Stn Code, dd/mm/yy, (space) Train No.,(space) Class,(space) Passenger Name, (space) Age, (space) M/F
You will receive your transaction number.
Send a second SMS for payment, in the following syntax.
PAY (space) Transaction No, (space) MPAY, (space) m-Pin
(for authorising payment through MPAY)
or
PAY (space) Mobile No, (space) MMID, (space), Amount, (space) Transaction id, (space) OTP
(for authorizing payment through IMPS)
3. SMS booking through BSNL
Users should have the following:
1. BSNL SIM card installed.
2. Java enabled mobile phone.
3. Andhra Bank Prepaid card.
Install the IRCTC application and register to get your mPIN
Booking
Click the icon BSNL Prepaid Card
Select Ticketing > Train (IRCTC)
Fill up the journey details such as From Stn, To Stn, Train No, DOJ, Class, Quota, passenger details.
Enter the mPIN to get the ticket information.
Charges: No PG Charges. Agent / IRCTC Service Charges: As applicable. SMSes without charges.
4.Booking for Airtel subscribers
Register for Airtel money by dialing *400#.
Booking
Dial *400# and select 'book tickets' option.
Select Reservation.
Enter your IRCTC User ID.
Enter the details of ticket (station, train no. date of journey, class etc.).
Enter mPIN for authorizing payment.
Booking confirmation SMS is sent by IRCTC and same can be used during journey along with valid ID proof.
Fare & IRCTC service charges are debited from your Airtel money account.
Charges: No PG Charges.
Agent / IRCTC Service Charges: As applicable