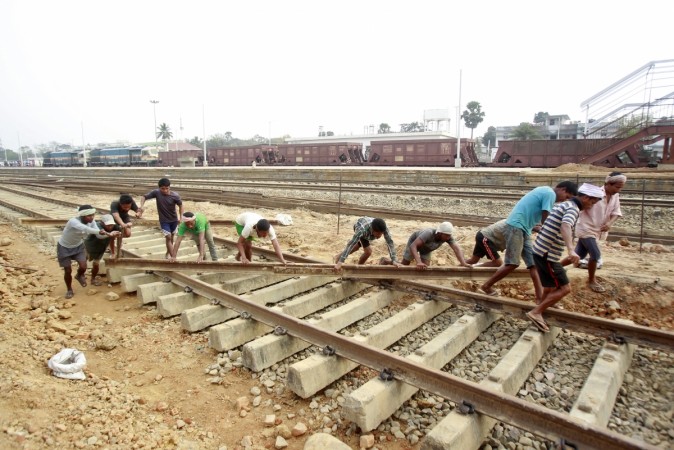 To outwit land encroachers, the Indian Railways has come up with a new plan: lay new railway tracks on the extreme ends of existing lines. This would effectively deal with the problem of land encroachment, a politically-sensitive issue in the country.
The idea is being pursued even as the road ministry has dropped it after finding the route "impractical."
"We have now decided that third line will be a line which will be on the side. What we will do is that it will be either extreme left or right and we will leave enough space in between so that when there is demand for fourth line it comes in-between and we do not have to go for land acquisition," the Financial Chronicle quoted AK Mittal, chairman, Railway Board.
The suggestion was first made by Prime Minister Narendra Modi when he was reviewing the progress of infrastructure projects. Modi apparently told officials that the new approach would tackle the issue of encroachment along railway tracks.
The idea also deals with rising prices of land in the vicinity of upcoming railway projects and illegal occupation of railway land.
"Besides, once land along the railway track is illegally encroached and people make permanent settlements the re, removing them becomes big challenge," the daily quoted a senior railway civil engineer as saying.
Recently, the goverment announced projects worth Rs. 24,000 crore comprising laying of new railway lines at various sections of the country's rail network spanning thousands of kilometres.
The construction of additional railway lines will be in Assam, Jharkhand, Odisha, Maharashtra, Madhya Pradesh, Uttar Pradesh, Telangana, Andhra Pradesh and Chhattisgarh.
"Besides facilitating travel by easing traffic bottlenecks, the approved lines would help upcoming industries in the region and additional transport capacity to meet their requirements. The goods trains supplying food grains from one region to another, various industries, mines, coal fields and power plants will have additional transport capacity through these lines resulting in more revenues to Indian Railways," the ministry said in a statement while announcing the projects.
Besides laying new tracks, the Indian Railways also announced electrifying railway lines spanning a distance of 2,000 km during the current fiscal in his budget for 2016-17.