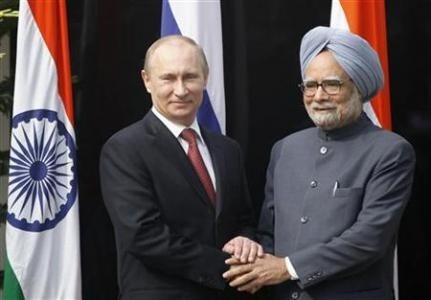 On his two-day visit to Russia, Indian Prime Minister Manmohan Singh assured to strengthen ties with President Vladimir Putin and discuss issues related to defence, nuclear energy as well as the 'conflict and turbulence in West Asia'.
Calling the annual summit with Russia an 'important feature of our special and privileged strategic partnership' Singh said on Sunday, "I am leaving today for Moscow to attend the 14th India-Russian Annual Summit at the invitation of President Vladimir Putin."
Both countries have been working out a 'techno-commercial' agreement on the third and fourth reactors of the long-delayed Kudankulam Nuclear Power Plant in Tamil Nadu, an issue that Singh is likely to take up during his summit meeting with Putin on Monday.
"The scope of our relationship with Russia is unique, encompassing strong and growing cooperation in areas such as defence, nuclear energy, science and technology, hydrocarbons, trade and investment, and people-to-people exchanges," he said in a statement.
According to the Department of Industrial Policy and Promotion, Russia is not among top ten investors in India. Russia's Foreign Direct Investment (FDI) from 2000 to July 2013 amounts to ₹2238.58 crore ($365.33 million).
The Moscow visit from 20-22 October would also see Singh explore convergence of views on developments in the West Asian country of Syria and Afghanistan.
"We value Russia's perspective on international developments of mutual interest. I look forward to exchanging views with President Putin on a broad range of international developments, including the conflict and turbulence in West Asia as also closer to India, particularly in Afghanistan," he added.
New Delhi has a large stake in the neighbouring country of Afghanistan. India has minimal troops in the country, but it has invested more than $1.5 billion to help the country with construction projects ranging from maternity hospitals to Kabul's electricity grid. Hence, stability in the region is primary for India after the withdrawal of US forces from Afghanistan in 2014.
"I will convey to President Putin the importance we attach to our relations with Russia, and I will use this visit to strengthen our partnership in every possible way," Singh said.
While in Russia, Singh will also be honored with an Honorary Doctorate from Moscow State Institute of International Relations.