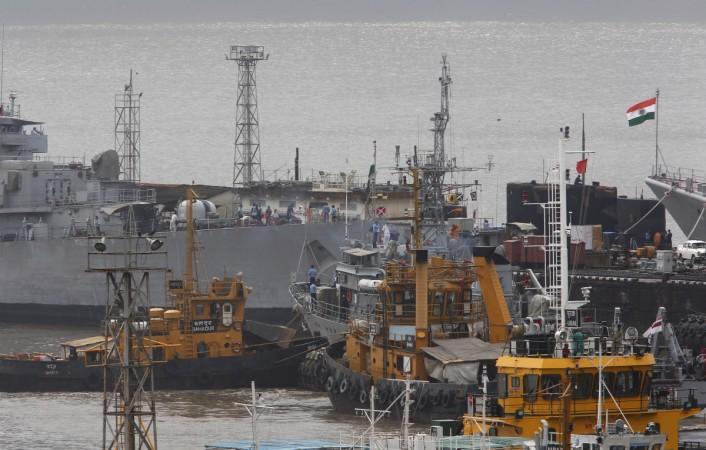 Adding to a string of disasters that the Indian Navy has been struck with over the last year, a Torpedo Recovery Vessel sank off the Visakhapatnam coast with 28 people on board on Thursday, claiming the life of a sailor, while four others are still missing.
The vessel sank due to flooding in one of the compartments during a regular exercise, the Navy said. Twenty-three people were rescued by the search and rescue ships, as reported by the Press Trust of India.
"The vessel was on a routine mission to recover torpedoes fired by fleet ships during a routine exercise, when it experienced flooding in one of its compartments," the Navy said. "One sailor has lost his life during the rescue operation and four personnel are reported missing."
The Torpedo Recovery Vessel (TRV) is an auxiliary vessel used to recover dummy torpedoes fired by fleet ships and submarines during exercises.
"The incident happened within 10-15 km off Vizag post," a Navy spokesperson in Visakhapatnam told PTI. The boat sunk because of "some flooding", he added.
The flooding reportedly occurred at the time when the 23-meter-long vessel was returning after collecting a "dummy" torpedo.
Defence minister Arun Jaitley has been apprised of the incident and the Navy has reportedly ordered an inquiry into the mishap.
Since 2013, the Indian Navy has faced a series of mishaps resulting in casualties of its personnel, and even an exchange of baton at the top, with Navy chief Admiral R K Dhowan taking over as the Chief of the Naval Staff this April, following D K Joshi's resignation, does not seem to have changed the state of affairs.
Joshi had quit following a number of accidents with Navy vessels, especially following 18 casualties after the kilo-class submarine INS Sindhurakshak sank at Mumbai's naval dockyard on 14 August last year and the fire on INS Sindhuratna, which left two sailors dead.
This year, a toxic gas leak on INS Kolkata killed one commander on 7 March, while a civilian was killed in an incident on an under construction nuclear submarine in Visakhapatnam on 8 March.