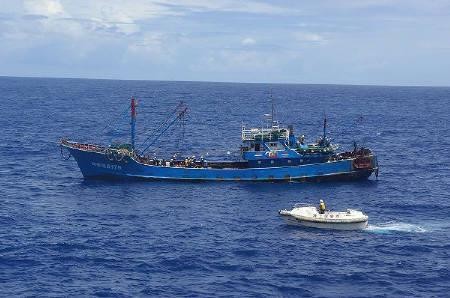 The Indian Navy, with the assistance of the Coast Guard, intercepted two Pakistani boats off the Porbandar coast in Gujarat on Monday and detained eight alleged smugglers who were ferrying nearly 250 kg of heroin.
Hindustan Times reports that the heroin has a street value of around ₹600 crore.
The boats were intercepted along international maritime boundary line on Monday evening. The Navy handed over the two boats, Fiza and Fatima, along with the men to the Indian Coast Guard, which is scheduled to bring them to the Porbandar coast on Tuesday.
"The boat has been intercepted close to Porbandar coast. The operation is, however, going on at the sea for verification of the sailors and contraband and will be informed in detail after verification process is over," Commander Coast Guard (North West) Kuldip Singh Sheoran said, according to The Indian Express.
As the initial verification has not revealed much, the detainees will be interrogated after they are brought to the coast, to seek further details.
"The boats, 'Fiza' and 'Fatima', did not have mandatory documents for fishing. Their interrogation will reveal more details," sources at Kalyanpur police station told The Times of India.
The Indian Navy launched the operation after receiving intelligence inputs that a Pakistani boat, Fiza, is "suspiciously" entering into Indian waters. Though a patrol vessel ship was sent to intercept one boat, it spotted another.
After seizing the boats, the officials began searching it and soon found contraband hidden beneath empty boxes.
Earlier this year, an interception of an alleged Pakistani boat off the Porbandar coast led to a huge controversy and posed question on the authenticity of the Indian Coast Guard when DIG BK Loshali claimed at a gathering that he ordered to blow up the Pakistani boat.
The Indian Coast Guard had said that the sailors on-board the Pakistani boat blew themselves up when they were being chased. The Defence Ministry had then claimed that the crew on the boat were "terrorists" as they did not stop despite several warnings and they were also in constant touch with the Pakistani Army.