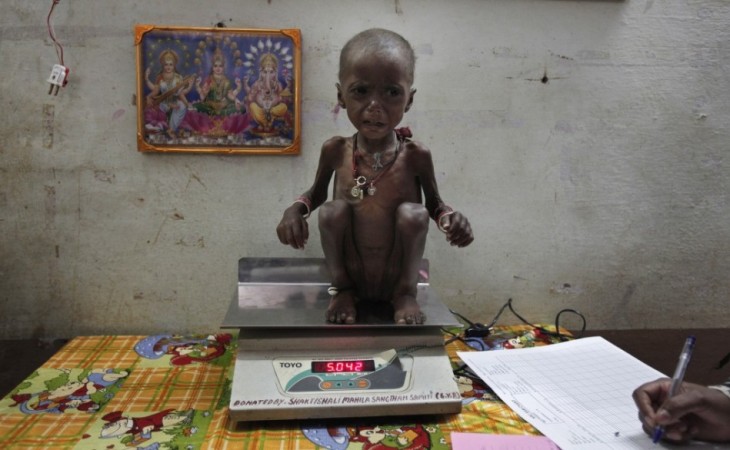 In a shocking revelation of Indian leaders' apathy towards the gruesome problem faced by a big chunk of the country's population, politicians are making claims that meals cost from ₹1 to ₹12 in India, forgetting the fact that 42 percent of children in the country are malnourished.
National Conference party leader and Union Minister for New and Renewable Energy, Farooq Abdullah, has claimed that "one can eat for ₹1, if desired. It depends on the common man how much they can afford and they have to manage in that only."
The statement came after Congress spokesperson Raj Babbar said that a full meal costs ₹12 in Mumbai. Congress leader Rasheed Masood later claimed that one can have a full meal in the national capital, Delhi, for ₹5.
After being ridiculed from several quarters for the statement that many termed as "foolish", "absurd" and "illogical", Congress general secretary and in-charge of communication department, Ajay Maken, has said that the party doesn't buy the statements made by some of its leaders.
Realising his folly, Raj Babbar on Friday expressed regret over his "₹12-meal" remark, saying he didn't mean to hurt anyone.
According to latest poverty estimates in the country presented by the Planning Commission, the percentage of persons below the Poverty Line in 2011-12 has been estimated as 25.7 percent in rural areas, 13.7 percent in urban areas and 21.9 percent for the country as a whole. India still had 270 million persons below the Tendulkar Poverty Line in 2011-12 though the number has reduced drastically over the years.
In fact, the number of people below the poverty line and the rampant malnutrition among children in the country is a national shame.
According to a report by UNICEF, 20 percent of children under five years of age suffer from wasting due to acute undernutrition, and more than one third of the world's children who are wasted are from India.
The report said that 43 percent of Indian children under five years are underweight and 48 percent (i.e. 61 million children) are stunted due to chronic undernutrition, which accounts for more than three out of every 10 stunted children in the world. It added that 70 percent children aged 6-59 months are anaemic and only 20 percent children aged 6-23 months are fed appropriately.
A study by a British charity, 'Save the Children' in four countries - India, Ethiopia, Peru and Vietnam, suggested that the impact of malnutrition on the global economy could touch $125 billion by 2030, with India accounting for nearly $46 billion.