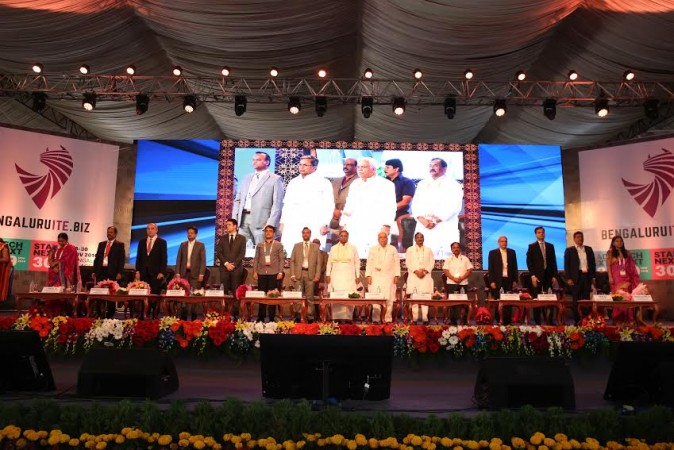 Portable ECG machines, distress signals for women's safety and anti-loss alarm chips were some of the innovative ideas that were shared at the BengaluruITE.Biz 2016, organised by the Karnataka government in association with the Department of IT & BT and Software Technology Parks of India (STPI).
A congregation that comprised audience of top business executives, government officials and investors saw hundreds of startups and technology companies pitching their products and services at the three-day event at Palace Grounds that began on November 28.
This year's theme titled 'Define the Next' was described as an apt choice by industry stalwarts such as Bhaskar Ghosh, group chief executive of Accenture Technology Services, and Anant Maheshwari, president of Microsoft India, who inaugurated the keynote sessions of day one.
'Define the Next' will focus on sub-sectors within the IT industry such as Artificial Intelligence, IoT, Robotics, Big Data, Virtual Reality (VR) and Augmented Reality (AR), Electronics System Design, Animation, Visual Effects and Gaming, Apps Development, Startups and Entrepreneurship Development, among many others.
"The mantra which has given us success, the success of Indian IT industry for the last 20 years may not work in the next 10 years…We need to learn and define new so that we stay relevant," Ghosh said, and Maheshwari agreed as they concurred that the focus on the aforementioned components is what is required by the ITE sectors for continued growth.
Taking the stage, Karnataka Chief Minister Siddaramaiah also echoed the sentiments of the industry leaders as he announced the setting up of a Centres of Excellence to encourage growth in key areas such as Aerospace, Big Data Sciences, Animation, Cyber Security and setting up of incubators for fields such as Internet of Things, robotics, 3D printing and medical devices with a focus on R&D and Training. These centres will provide electronic hardware startups and small enterprises to have access to instrumentation facilities to fine-tune their products.
"By nurturing innovation, the state intends to create a tsunami of beneficial impact from its initiatives… Our endeavour would be to create impact beyond our shores, by building an eco-system, which is forever innovating and inclusive in its reach and impact, and thus lead the country in Defining the Next," Siddaramaiah said.
He also announced the signing of various MoUs between the Netherlands and the government of Karnataka for collaboration in the fields of technology for elderly care, genetic research, startups and cyber security.
He also announced Karnataka State Electronics Developments project aimed at providing Wi-Fi connectivity to 11 gram panchayats in the state. Under the project, rural population in these gram panchayats can make use of the services by buying concessional wi-fi vouchers.