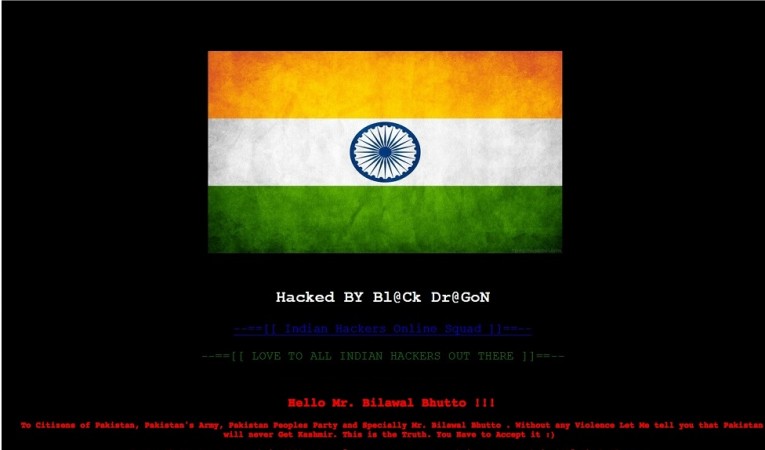 An Indian hacking group has claimed responsibility for defacing the official website of Pakistan People's Party (PPP) in reply to Bilawal Bhutto Zardari's vow to take back all of Kashmir from India.
The Indian hacker group that calls itself 'Black Dragon' put up India's flag and a short message, along with memes mocking Bilawal, the patron-in-chief of the party.
"To Citizens of Pakistan, Pakistan's Army, Pakistan Peoples Party and Specially Mr Bilawal Bhutto. Without any Violence Let Me tell you that Pakistan will never Get Kashmir. This is the Truth. You Have to Accept it," the message read.
In addition to the message, memes mocking Pakistan were also featured on the page. One of the memes claimed: "Not able to control their own country and want to take entire Kashmir from India."
The Black Dragon also posted an audio link to RJ Naved's prank call to Pakistani minister Yaqoob Sherwani mocking Bilawal.
Watch Video of the Prank call by RJ Naved
Earlier last month Bilawal Bhutto Zardari addressing his party workers in Multan, had said: 'I will take back Kashmir, all of it, and I will not leave behind a single inch of it because, like the other provinces, it belongs to Pakistan.'
The comment elucidated an amused reaction from many in India. Many took to Twitter to express their opinions.
Ramesh Srivats @rameshsrivats had posted: "Bilawal Bhutto promises to take back every inch of Kashmir. Hehe. As far as sense is concerned, he's proved himself to be Below-all Bhutto."
While Aashish @c_aashish said: "If Bilawal Bhutto takes all of Kashmir, he would still have to give 10% to his dad."
Following the hacking of its official website, PPP in reply seems to have blocked all access to its site to users from India.