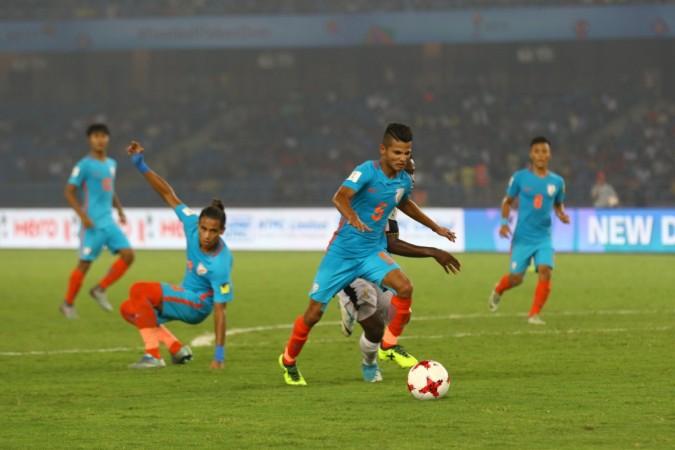 The Indian U-16 football team defeated their Iraqi counterparts in the West Asian Football Federation Championship U-16 tournament on Sunday, August 5.
The Indian side emerged victorious after a last-minute headed goal by Bhuvenesh. This is the first time that India defeated Iraq in any age group, according to the All India Football Federation.
This tournament was meant as a preparatory stage for the AFC U-16 Championship to be played next month in Malaysia. The win, however, comes after a loss to Japan in an earlier match, hence, their position in the tournament remains still remains precarious.
All the good work could be undone if they cannot get the better of Yemen in the next match. What is crucial is retaining momentum and to produce consistent match-winning performances. The fact that it was India's first ever win over Iraq is one to be glossed over and not one to gloat about.
Iraq is ranked 70th in the FIFA rankings and has qualified for the World Cup once in 1986 through a qualifying round. It had to play most of its matches in the last couple of decades in neutral territory due to the numerous wars with Iran and USA and rising tensions with other countries subsequently. Yet, it is still recognized as one of the more consistent Asian performers.
In terms of footballing infrastructure and resources, India is arguably ahead of Iraq. What it is doing is trying to catch up. The win could very well be an outlier in footballing terms. India's performance in next month's tournament will be more important in giving us a better picture of Indian football.
The win of the U-20 football team over its Argentine equivalent was done in the COTIF tournament taking place in Spain. The victory was secured through a series of contrasting incidents- a goalkeeping gaffe from the Argentina goalkeeper and a spectacular free-kick from Anwar Ali. The team hung on despite the sending off of an Indian player and a great goal back from Argentina.
The win was achieved in an invitational tournament for the U-20 teams. India's victory is remarkable here for the fact that the team is, in essence, the Indian Arrows side. The AIFF's developmental squad did come good against an Argentine team which has achieved the most success in the U-20 level.
However, the nature of the tournament makes one wonder how well the team would do in a bonafide international tournament. Only when the team can start winning matches at a worldly and continental level is when one can perhaps, get genuinely excited about Indian football. As of now, India remains likely to exit the group stage of the 2019 Asian Cup.