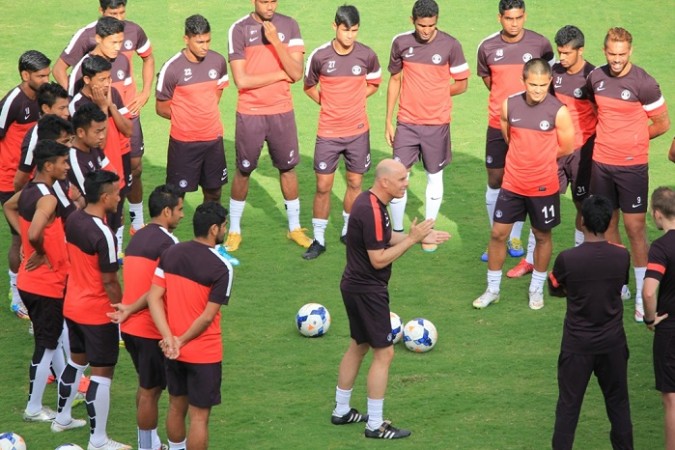 The All India Football Federation (AIFF) have made their stance clear that the need for Person of Indian Origin (PIOs) to represent the country is more urgent than ever now, as the governing body of Indian Football looks forward to build a strong team to challenge higher ranked nations.
In their match against India in the Russia 2018 World Cup Qualifier on 16 June Guam, the host nation fielded as many as six players who were of US origin, and were plying trade in the Major League Soccer. This proved to be a disadvantage for the Stephen Constantine-led side, as they succumbed to a 2-1 defeat.
Speaking of this problem of PIOs not being eligible to represent the country, AIFF general secretary Kushal Das has admitted that India are indeed at a disadvantage, as compared to other countries like Afghanistan and Guam.
"Pakistan's captain is a British citizen and many Afghanistan players turn out for European leagues. Six of Guam's players were of US origin, playing in the MLS. It is becoming difficult for India to beat teams such as Afghanistan and Guam. We admit their systems and exposure are far superior to ours," Das told in an exclusive interview with The Times of India.
"Also, we have to admit that there will always be limitations in the abilities of the current set of footballers in the national team. They have not come up through the education and training system which we find in the present-day academies and grassroots programmes.
"They didn't have the benefit of such grooming and thus the national team cannot do too well at this stage."
As per the guidelines of the Government of India, no athlete can represent the Indian flag unless he/she holds a valid citizenship of India. The governing body of football, FIFA, have however set a defined set of rules as per which a footballer can represent the country of his/her origin.
However, it seems the Indian government is firm on its single citizenship stand and is unrelenting to look into a way to solve this crisis hovering over Indian football.
Das has however found solutions to tackle this problem.
"First we need to manage perceptions. The feeling is one of negativity when the national team does not perform. This is a young country and everyone wants quick results. People say that nothing much is being done. To counter this, we thought PIOs were the answer.
"Head coach Stephen Constantine has identified 4-5 players (such as Luciano Narsingh of Holland and Harmeet Singh of Norway) who can make a huge difference to the national team as the MLS players did to Guam.
"This is only an interim measure. It will last till such time we build a team out of Indian nationals. It will start with the U-17 World Cup which will be a game-changer. Our next hope is the grassroots and youth development programme that is established in eight states, and it is not merely about football. It emphasizes on other key aspects such as discipline, nutrition, understanding the sport, coach education etc. This will take time to fructify.
"Once it does, maybe in around 8-10 years, we will get a much better national side," Das explained.
According to another AIFF official, the law for not allowing PIOs came into effect around 2007 or 2008.
"In 2002, it was open for Players to come and play. The law of the land allowed it then. During Stephen's first regime, two Players came over - Ebbie Kodaittu and Simran Singh. Michael Chopra at the time was approached, but he turned it down for understandable reasons."
It is now to be seen whether the government of India finally gives in to tweak the law or not and whether Indian Football, with its increasing grassroots program, can finally manage to make a good impact.