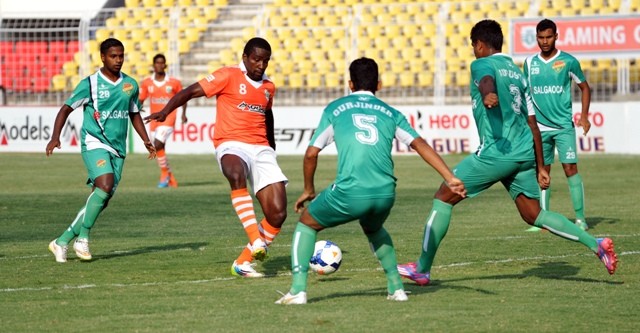 Indian football fans got a major shock on Friday afternoon after Goan clubs Salgaocar FC and Sporting Clube de Goa announced their exit from the forthcoming edition of I-League. The clubs, in a joint press statement, revealed that they were not pleased with the All India Football Federation's (AIFF) road map for the future.
The proposed change of the Indian football calendar from the next year itself drew mixed reactions from all quarters but a massive blow like this coming from the clubs was not expected. It was discussed during a meeting among the AIFF, the Indian Super League and the I-League stakeholders that the ISL would become the main competition of the country and the I-League will be relegated to the league one.
"We therefore have no option but to believe that the AIFF will enforce the May 17th proposal, which would promote the ISL to the nation's premier tournament with a "pay to play" franchisee model with no promotion or relegation," read the joint statement from the Goan clubs. "Furthermore, it guarantees the winner of the ISL representation at the AFC level, with the other available spot going to the winner of a tournament that again is heavily skewed in favour of ISL franchisees.
"This effectively removes any incentive for a club team to participate in the restructured I-League, given that monetary incentives were never a contributing factor. The lack of the latter was ensured by the AIFF who unfairly sold the rights to the I-League without consulting all its stakeholders.
"Remarkably, while demanding professionalism and fiscal responsibility from I-League clubs without itself reflecting the same, the AIFF has still not settled dues to I-League clubs dating as far back as 2008," the hard-hitting statement added.
Marcus Mergulhao, a sports journalist from Goa, has also announced that Dempo, one of the most successful clubs in the I-League, could also follow suit and exit the competition which was once referred by AIFF President Praful Patel as the premier league of India.
"A sad day for Indian football" is how the Indian football fans on Twitter have responded to the shocking news. Here are some tweets: