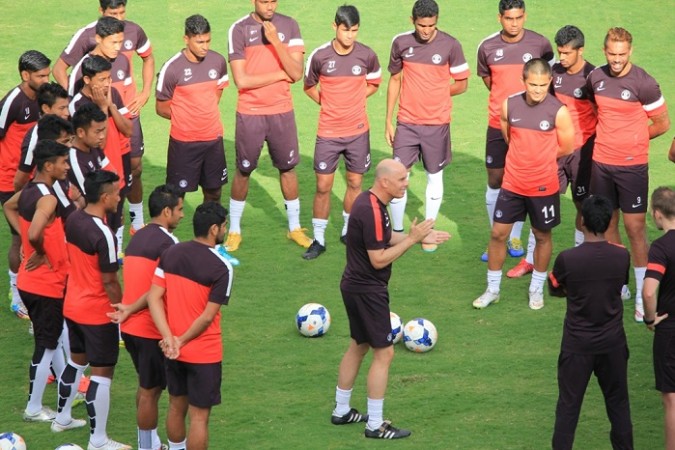 India head coach Stephen Constantine has explained that Indian football is in deep trouble at the moment, as he criticised the football calendar of the nation.
The national team are currently ranked 156 in the world, and the British coach, who is known not to mince words, has urged the Indian Super League organisers, the I-League organisers, as well as the AIFF, to sit and plan and organise the road ahead for football in the country.
"If we do not change, Indian football will die and that is clear. We are already at death's door and that is why we are [ranked] 156. So if we do not align our calendar with that of the rest of the world, then what are we doing? What do we expect to do?" the British tactician told Firstpost.
"We can have a hundred youth academies but they are not in competitive leagues."
The need for an organised football calendar has been echoed by fans and officials alike for some time, and the former Rwanda coach has now explained that the lack of an organised setup is taking its toll on the national team.
"FIFA dates for the whole world are the same. We should be looking to start our calendar in August, so that players come for preseason in July and leagues start in mid-August. And so by September, they will have had recovery, preseason and four to five competitive league matches. That means they're in tip-top condition for international opponents," Constantine said.
"Our players start in October. So, in September we're doing nothing and then we expect to qualify for the World Cup and Asian Cup. This is not logical. China changed, Japan changed, Iran changed, why can't we?" he questioned.
The overall growth of Indian football is what Constantine wants, and he has criticised the red-tapism that still persists in the country when it comes to the beautiful game.
"We have people who love Indian football and want it to develop but are not willing to listen to those who know football. Loving the game is different to living the game," he continued.
"We need the Indian Super League (ISL), I-League, AIFF to sit down and think: What do we want? Everyone is saying we want the development of Indian football. So, sit down and listen. It's not about egos, not about 'I have this and I have that'. It's about what's right for Indian football," the 52-year-old added.
"We need one league and I am prepared to help in any shape or form, but we need to implement. If we don't, then I don't see a future in Indian football."