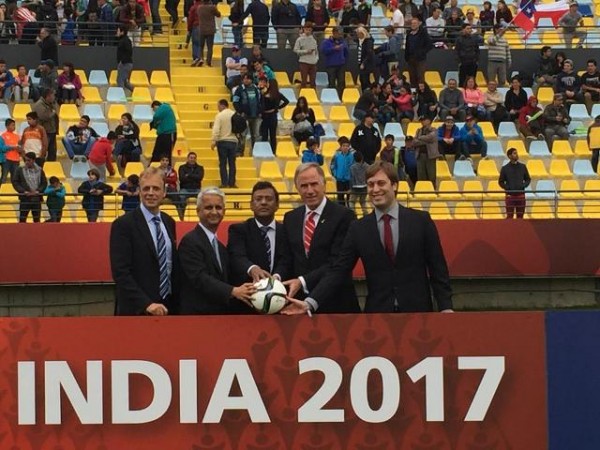 The All India Football Federation (AIFF) has maintained that it will do everything in its capacity to make the FIFA U-17 World Cup in 2017 a grand success.
It was only earlier this month that the U-17 World Cup in Chile drew curtains and the baton has now been passed to India to host the mega event that has produced stars like Neymar and many more.
Four venues have been confirmed so far -- The Salt Lake stadium in Kolkata, the JLN Stadium in Kochi, the Indira Gandhi Athletic stadium in Kochi, and the JLN Stadium in New Delhi.
Two more stadiums will be finalised that will host the 23-day event; the final decision will come after the inspection by FIFA officials in September 2016.
The World Cup bound U-16 Indian side has participated in exposure tours of Germany and Spain this year as well as qualified for the AFC U-16 Championships next year. Kushal Das, General Secretary, AIFF, has now mentioned that the Indian colts will take part in a tour of the UAE to gain more experience ahead of the mega event.
"We are preparing a competitive Indian team for the U-17 World Cup. We went to Germany, Spain and qualified for the AFC U-16 Championships on merit. We are next going to UAE," Das was quoted by PTI as saying.
"The core team is more or less the same though Nicolai (Adam - U-17 coach) is still scouting for a few more players."
There have been questions in the past and they are still being raised as to whether India are prepared to hold an event of such a magnitude.
Javier Ceppi, tournament director of the U-17 World Cup, has mentioned that the event in Chile this year had scouts present on venues from European giants like Manchester United, Real Madrid, Bayern Munich, Barcelona, and so on. India will not be an exception.
It will be a massive event in the footballing history of the country, no doubt, calling for massive preparation. "There are three aspects and one of them is delivering a FIFA standards event," Das continued.
"A lot of work - stadium development and training venue development - has been done as per FIFA guidelines. AIFF is closely working with the government and the required funding will be taken care of.
"For the last 2-3 years the focus of AIFF has been grassroots and youth, this tournament will set up a milestone in them going forward," he said.