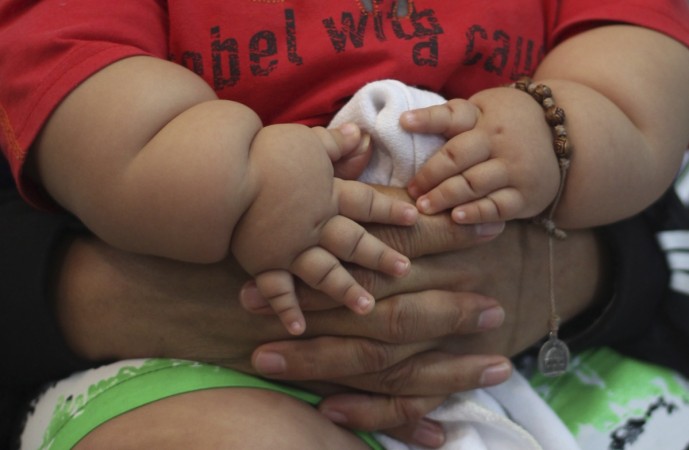 A pair of Indian parents in Gujarat are struggling to feed their three children who suffer from a genetic condition called Prader Willi Syndrome.
Five-year-old Yogita, 3-year-old Anisha, and 18-month-old Harsh weigh 34 kg, 48kg, and 15kg, respectively. They eat one month's ration for two families within a week.
Their father, 34-year-old Rameshbhai Nandwana, is a daily wage labour. He is now planning to sell his kidney to arrange for money for the treatment of his kids.
The family has already spent a lot of money on consulting with local doctors, but none of them could suggest a treament for the disorder.
The daily diet of Yogita and Anisha includes 18 chapatis, two bowls of broth, 3lbs of rice, six packets of chips, five packs of biscuits, 12 bananas, and a litre of milk.
As the trio experience frequent bouts of hunger, their 30-year-old mother Pragna Ben spends most of her time in the kitchen preparing food for them.
"When Yogita was born she was extremely weak and weighed just 1.5kg (3.3lbs). We were worried for her health. So we fed her a lot during the first year of her life to build her strength but by her first birthday she had bloated to 12kg (1st 12lbs)," Nandwana said to Daily Mail.
Anisha also went through the same phases. The couple understood that their kids suffer from some disorder only after their youngest, a son, became obese within one year like his siblings.
Meanwhile, the couple also has a six-year-old daughter, Bhavika, who weighs just 16 kg.
Check out the photos of the obese kids below:
Father plans to sell his own kidney to save his three obese children http://t.co/lWTmDsP5PE pic.twitter.com/Q6OK1YriJd

— Daily Mail Online (@MailOnline) April 16, 2015
Indian father plans to sell his own kidney to fund life-saving treatment for his three obese children. /Daily Mail pic.twitter.com/4wUuuA5YbO — UAE BARQ (@UAE_BARQ_EN) April 16, 2015
Respected Sirs @RashtrapatiBhvn @narendramodi , Please help these Indian children ! http://t.co/ayXFvvZEhQ pic.twitter.com/DqL0xfZKGt

— A.Kannan (@ArjuneKannan2) April 16, 2015