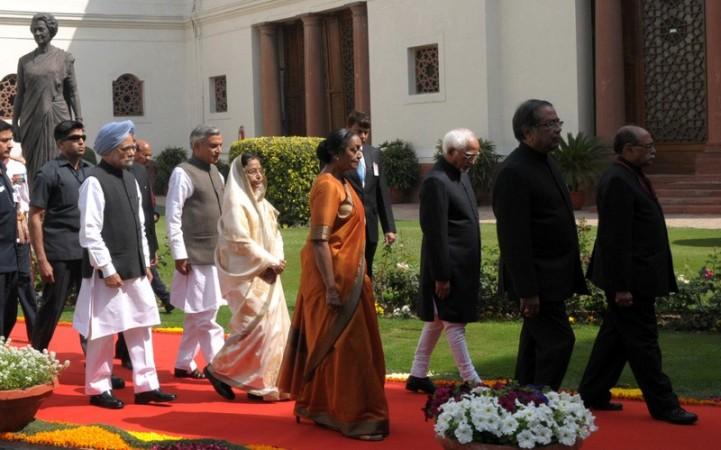 Stating that the current year has been a difficult one for the world economy, Indian President Pratibha Patil said that the country would back to the high economic growth trajectory of 8 to 9 percent.
Addressing the joint session of Parliament on first day of the budget session, Pratibha Patil said, "Economic uncertainties have had an adverse impact across the globe. There is increased political uncertainty and turbulence in the international system and the environment in which we operate has become more challenging over the last one year."
"Our economy grew at a handsome rate of 8.4 per cent in 2010-11, but it has slowed down to about 7 per cent this year. This remains a healthy growth given current global trends".
"India's growth prospects arise from factors such as high domestic savings and investment rates, favorable demographics, and a stable democratic polity. My government is confident that it will soon steer the country back to the high growth trajectory of 8 to 9 per cent," said the President.
She also said that the long-term fundamentals of the Indian economy remained robust.
Stating that the UPA government was committed to providing an honest and more efficient governance, she said: "In deference to the long cherished wishes of the people of the region, my government signed a tripartite agreement for setting up of the Gorkhaland Territorial Administration."
"Another tripartite Memorandum of Settlement has been signed with United People's Democratic Solidarity in Assam. A non-lapsable central pool of resources has been created to cover the gaps in funding requirements of Central Government projects in the North-East," she added.
During her speech, she also pointed out that the UPA government had pursued a foreign policy of promoting peace and cooperation in immediate neighborhood and beyond to achieve socio-economic development and national security in the country.
"My government remains firmly committed to the success of the South Asian Association for Regional Cooperation. We wish to see all nations in South Asia prosper, enjoy stability and realize their true potential through the broadening of regional economic cooperation, trade and infrastructure development," said Pratibha.
Speaking about the controversial elite anti-terror group, National Counter Terrorism Centre, the President said, "The bomb blasts on July 13, 2011 in Mumbai and September 7, 2011 in Delhi were a grim reminder that terrorist modules continue to be active in the country. In 2011, eighteen terrorist modules were neutralized. The National Intelligence Grid and the National Counter Terrorism Centre aim to improve India's capability to counter internal security threats".