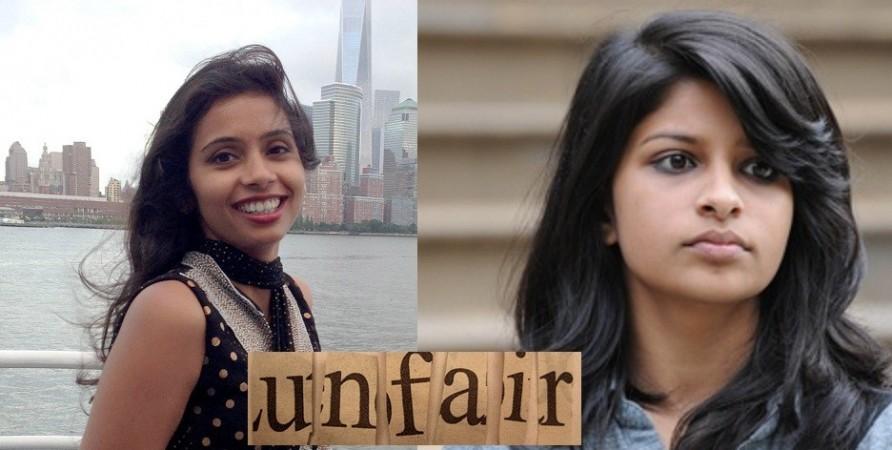 While the US authorities have called the arrest and strip search of Indian Diplomat Divyani 'an isolated and separate incident,' this is certainly not the first time that the American's have gone overboard against Indians from the diplomat community.
The most embarrassing and condemnable incident was that of the 17 year old high school student - the daughter of the Vice-Consul in the Consulate General of India in New York, Debashish Biswas. Two years ago, Krittika Biwas was not only arrested but also jailed along with convicts for a crime she had never committed.
The US authorities showing an increased high-handedness in the case arrested Krittika on mere suspicion. It was suspected that Krittika had sent "offensive and sexually threatening" emails to her teachers in Queens's John Browne High School.
Krittika, who after her release and suspension from school decided to leave the US and instead pursue her higher studies in India, has filed a million dollar case against the New York authorities.
During her 24-hour ordeal, she was treated as a first rate felon and was not even allowed to meet her parents or a visit by senior Indian diplomats. Later, it was proved that it was a case of mistaken identity. But what was more baffling was that the student, who actually was responsible for sending the emails to the teachers, was neither arrested nor charged criminally.
Krittika is currently involved in a $1.5 million lawsuit against 11 parties including the city of New York, the city's Department of Education and some of its officials, the principal and teacher concerned of Ms Biswas's school and New York City police commissioner Raymond Kelly.
The 39-year old diplomat was arrested earlier this month for visa fraud while dropping her children to school around the Manhattan area. In an email to her colleagues from the Indian Foriegn Service(IFS) Devyani Khobragade said,"I must admit that I broke down many times as the indignities of repeated handcuffing, stripping and cavity searches, swabbing, in a hold up with common criminals and drug addicts were all being imposed upon me despite my incessant assertions of immunity."
Deputy Consul General Khobragade now has been transferred to the UN permanent mission in New York, which entitles her to full diplomatic immunity. While the US authorizes now has claimed that its state department is reviewing if all the correct procedures were followed in the case, it has requested India to not let the issue affect US-Indian ties.
The issue already has become a case of US excess and mistreatment of Indians. The least US could do is offer an apology.