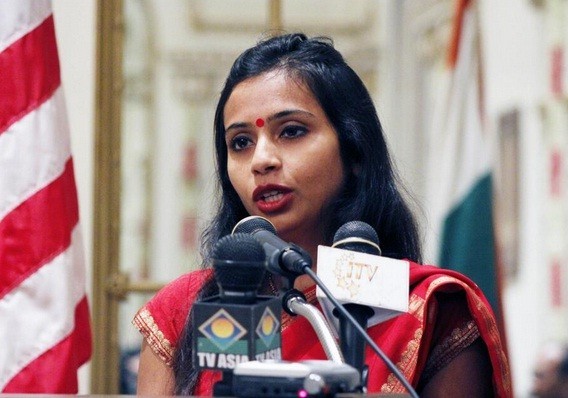 Indian Diplomat Devyani Khobragade's arrest has caused much diplomatic embarrassment to India and has even put India- US relation to strain. However, the incident also highlights the mindset and treatment of domestic workers in India and abroad.
The 39-year-old senior Indian diplomat, Khobragade, was arrested in New York for alleged visa fraud and exploiting her babysitter cum housekeeper. The 1999-batch Indian Foreign Service officer was taken into custody, while she was dropping off her daughter to school. The police handcuffed her in public, but was later released on a $250,000 bond after pleading not guilty.
However, this is not the first time that Indian diplomats in US were found on the wrong-side of the law with regards to the treatment of their domestic help. In June 2011, India's then Consul General in New York Prabhu Dayal was sued by his former housekeeper, who accused him of intimidating her into a year of forced labour. Later again in February 2012, Indian maid Shanti Gurung won a case against Neena Malhotra, a Press and Culture Counselor at the New York Consulate from 2006-2009.
These are just three incidents, a mere tip of the ice-berg. Back in India, the issues are uncountable. A report by the National Domestic Workers Movement states - "Domestic Workers are highly exploited and denied just wages and humane working conditions. Domestic workers are paid well below the minimum wages for unskilled or semi-skilled workers. The working hours of Domestic Workers can go from 8 to over 18 hours a day. Wages, leave facilities, medical benefits, and rest time are at the employer's mercy."
The report also notes that 90 per cent of domestic workers in India are women or children, especially girls, ranging from ages 12 to 75 and it is estimated that 25 per cent among them are below the age of 14. And a great number of live-in Domestic Workers are recruited from rural or tribal areas.
Even though India has its own minimum wage legislation, wherein both Centre and States can fix the wages in various sectors for skilled, semi-skilled and unskilled labourers, domestic workers don't fall under any of the categories.
If one is refused minimum wages, he or she can complain to labour inspectors or respective trade unions. Section 22 of the Minimum Wages Act, 1948 says that contravention of the rules formed under the Act is punishable with fine and imprisonment, which may extend to a period of six months and payment of arrears by the employer.
However, India does not even have any rule to uplift the domestic workers. The domestic helps are not even covered under any minimum wage rule, except in Karnataka that has set ₹191 daily as the minimum.
It is also common practise among the Non-Resident Indians to take, mainly women or young girls, as domestic-help or nanny abroad. Since they are oblivious to the rules of the land, they are exploited as cheap labour.
The case of the Deputy Consul General Khobragade is a classic insight into the 'desi' Indian mindset that even after all these years of education and reforms refuses to accept fair practices. While India has been lobbying hard to save Khobragade from a possible prison term, the US has made it amply clear that 'Indian Deputy Consul General Devyani Khobragade does not enjoy immunity from US laws.'
Leaving aside the row over Khobragade, is time that India woke up to strengthen rules to protect the domestic workers from exploitation in the country.