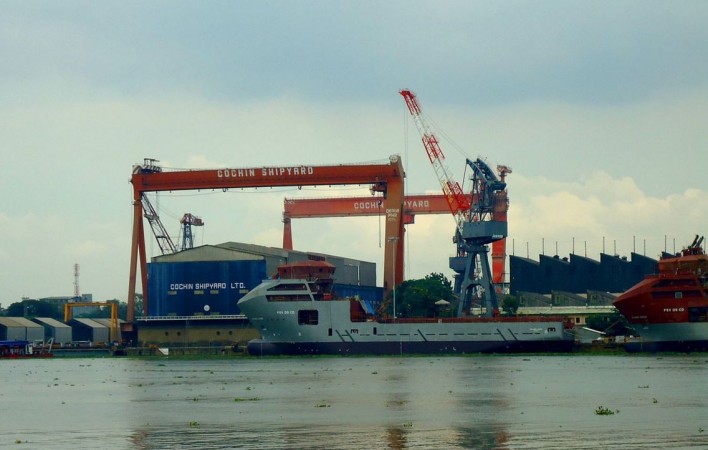 The Indian defence ministry will award contracts worth Rs. 50,000 crore to the shipping ministry, which in turn would bring in participation of the debt-ridden private sector shipyards through Cochin Shipyard. Indian Defence Minister Manohar Parrikar said on Thursday that his ministry would sign an agreement with the shipping ministry in this regard. He was speaking on the sidelines of the Maritime India Summit in Mumbai.
"We are signing a MoU (memorandum of understanding) with the ministry of shipping to ensure that the orders, which are there with the defence ministry, could be shared comfortably with the private shipyards through ministry of shipping," Defence Minister Manohar Parrikar was quoted as saying by the Press Trust of India.
However, the agreement, which was supposed to be signed on Thursday, has been postponed; a shipping ministry official was quoted as saying by Mint.
The main aim of the plan is to offer the financially-stressed private shipyards a chance to work on the projects by awarding them contracts through Cochin Shipyard and the ministry of shipping, Minister for Road Transport, Highways and Shipping Nitin Gadkari was quoted as saying by Mint. Gadkari also said the government has held a meeting with bankers and private shipping players to help solve their problems, reported PTI.
Private loss-making shipbuilders are not allowed to participate in defence tenders, as per the current defence procurement policy (DPP).
"There is another government department, which can act as cushion. We can order allotment of some order to private shipyard. With shipping ministry, it would be another government department. We can work out some orders or some work that can be given to private shipyards through ministry of shipping and this is what MoU is," Parrikar was quoted as saying by PTI.
[1 lakh = 100,000 | 1 crore = 10 million | 100 crore = 1 billion]