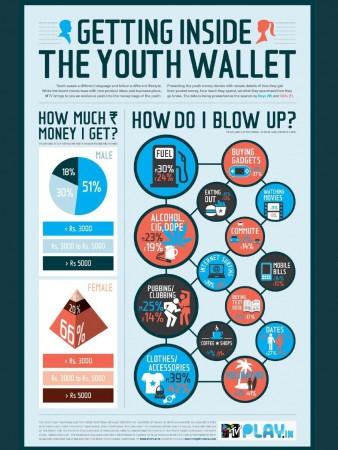 Youth in India are all having good time enjoying all the heavenly materials available in and around them, revealed a survey by a popular popular entertainment channel.
The recent survey conducted by MTV India Insight Studio has revealed that a majority of urban youth from both sexes spend a bulk of their pocket money on clubbing, boozing, smoking, doping, eating out and going to pubs. 25% of the money spends by male goes to clubbing, going to pubs and dating while an urban female spends lesser - 13%.
The survey revealed that there is hardly any noticeable difference in spending between the sexes when it comes to putting down money for cigarettes, alcohol, coffee and eating out. It also revealed that boys are still paying for girls when they go out together.
Apart from going out, youth from both the sexes fork out almost equal quantities of pocket money on buying gadgets, holidaying and Internet surfing. But there are a few interesting differences in gender spending. It seems boys are much bigger movie buffs than girls for instance, while girls still love accessories.
The survey was conducted at 13 Indian major cities and studied urban youths of both the sexes.