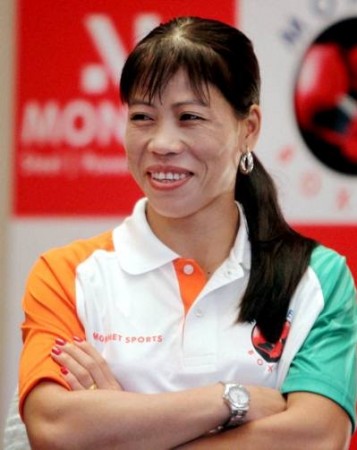 Five-time World Boxing champion MC Mary Kom underwent a keyhole surgery on Tuesday to remove stones from her gallbladder.
A team of doctors, under the supervision of medical superintendent Dr Sorokhaibam Jugindra, at the Shija Hospital and Research Institute (SHRI) in Imphal, successfully operated on the Olympic medalist and at the end of the one-hour surgery removed 26 stones from her gallbladder, reported the E-PAO website.
Hospital authorities reported that Mary is recovering well after her surgery and will go home on Thursday. "She (Mary) is fine and healthy," hospital's public relations officer, Surjit Singh Khaidem, told The Times of India.
The 30-year-old boxer, who suffered severe abdominal pain for quite some time, was only recently diagnosed with bladderstones.
"A few days ago, after she experienced a severe bout of pain, we rushed her to a nearby hospital where the doctors confirmed the presence of stones in her gall bladder and advised her to go in for gall bladder removal surgery," Mary's husband Onler Kom, told The Times of India.
The couple, who met in early 2000s, has three sons together - twin boys Rechungvar, Khupneivar and Prince Chungthanglen Kom.
Mary, who belongs to the Kom tribal community of Manipur, became a professional boxer in 2000 at the age of 17. She shot to fame after winning a silver medal at the Women's World Amateur Boxing Championships, in the US in 2001. She is also the first Indian woman to be qualified for the 2012 Olympics held in London and to win a bronze medal in the flyweight category.
Despite earning worldwide recognition, Mary's simplicity remains impact, according to her family.
"Nobody thought she will clean the toilet, or wash clothes after winning the Olympic medal; but she is still the same," husband Onler, had earlier told Firstpost in September. "She does what she did before, with the same energy and dedication, at home and in boxing. She looks after the children the same way."