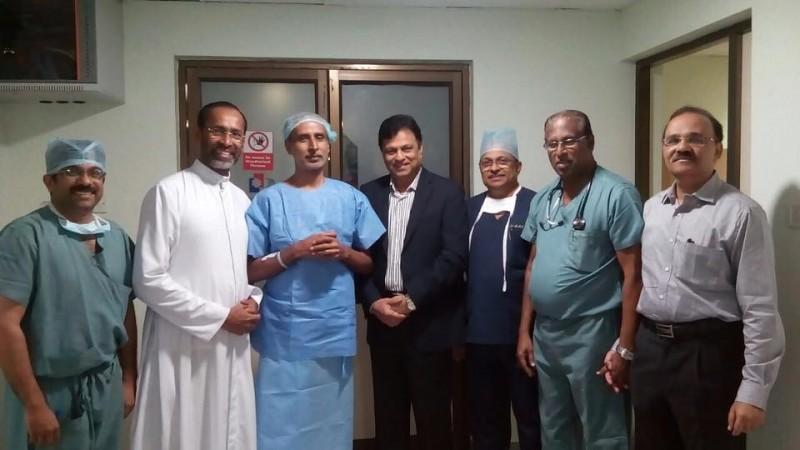 Jacob Murickan, a serving bishop of Pala diocese of Syro-Malabar Catholic Church in Kerala donated his kidney to save the life of a 31- year-old Hindu man, Sooraj Sudhakaran.
Sooraj has been undergoing dialysis for over a year after both his kidneys stopped functioning.
The surgery was successfully conducted at Kerala's VPS Lakeshore Hospital, Press Trust of India reported.
The organ transplantation surgery was conducted by a team of doctors led by urologist George P Abraham and nephrologist Aby Abraham, PTI quoted hospital sources as saying.
According to the Kidney Federation of India, this is for the first time that a serving bishop has offered to donate his kidney.
The bishop reportedly said that he is taking a cue from Pope Francis and support Pope's call to make 2016 'A Year of Mercy' and serving a fellow human being with this act.
Sooraj, who could not find a donor, had to even sell his own house to meet the expenses of the dialysis treatment, the Indian Express reported.
"We cannot ask another person to donate an organ. Only by allowing harvesting an organ from our body can we become a model for others," Murickan was quoted as saying by the Indian Express.
The bishop said that the recipient being from another religion was never a matter of concern for him and that the donation served him with an opportunity to act on his sermons.
"Our church and Pope Francis truly believe and back such acts of organ donations. It's in the spirit of the church. I believe this should be a strong message for people around me, to be open to donate organs," Bishop Murickan said, as reported by NDTV.
Murickan's donation also seemed to be influenced by Father Davis Chiramel, who donated kidney to a Hindu recipient in 2008. Chiramel was one of the founders of the Kidney Federation of India. Till now, 15 priests and six nuns have donated their kidneys to non-related recipients through the federation.