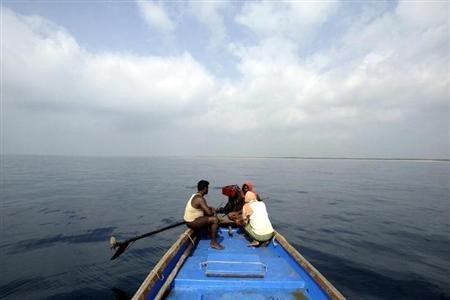 Putting to rest the decades-old issue between India and Bangladesh over a disputed area in the Bay of Bengal, a United Nations Tribunal awarded nearly four-fifth of the maritime territory to Bangladesh in a verdict on Monday, which was made public on Tuesday.
Bangladesh now gets control of almost 20,000 square kilometers of the disputed area that expands to 25,000 square kilometers (9,700 square miles) in the Bay of Bengal, giving it a viable scope to explore oil and gas resources in the energy-rich region.
The United Nations' Permanent Court of Arbitration in Hague, Netherlands gave its verdict with a 4:1 vote ratio, which is binding on both the South-Asian countries that have seen strained ties because of the territorial issue.
Bangladesh Foreign Minister Abul Hassan Mahmood Ali described the tribunal's verdict as a "victory for both countries."
"It is the victory of friendship and a win-win situation for the peoples of Bangladesh and India," Foreign Minister Abul Hassan Mahmood Ali said in a press conference, Reuters reported.
"We commend India for its willingness to resolve this matter peacefully by legal means and for its acceptance of the tribunal's judgment," he added.
The Indian government seemed to have taken the verdict, which went in favour of Bangladesh, in its stride, terming it as a way ahead for goodwill and economic development.
"The settlement of the maritime boundary will further enhance mutual understanding and goodwill between India and Bangladesh by bringing to closure a long-pending issue," the Ministry of External Affairs said in a statement.
"This paves the way for the economic development of this part of the Bay of Bengal, which will be beneficial to both countries," the ministry noted.
Bangladesh had initiated arbitral proceedings against India in 2009, under the United Nations Convention on the Law of the Sea. The issue, however, originates from the time of partition of British India in 1947. The boundary, demarcated by the Sir Cyril Radcliffe Commission in 1947, was the point of contention between the two nations.
Bangladesh, in its challenge in the tribunal, had said the Radcliffe Map was but a "general reference map," and that it showed a "line of attribution, not a line of delimitation."
However, India had defended the map saying it was a "professionally prepared government map" issued by the Bengal Drawing Office in 1944, as per documents available on the official website of the tribunal.
One of the points that went in favour of Bangladesh was its appeal under "special circumstances," because of the concave nature of its coastline — a position that was upheld in the final ruling, The Wall Street Journal reported.
Bangladesh had also taken a similar matter with Myanmar to the tribunal, which was resolved in 2012.