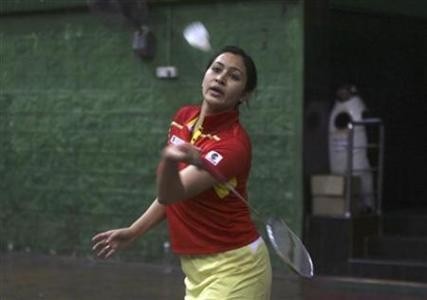 Krrish Delhi Smashers will take on Hyderabad Hotshots on the third day of the Indian Badminton League (IBL) 2013. The contest will take place on Saturday at Babu Banarasi Das U.P. Badminton Academy, Lucknow.
The match will begin at 04:00 pm IST and will be broadcast live on ESPN and Star Sports 2 channels. It will also be live streamed online on Star Sports official website.
Team News:
Hyderabad Hotshots are led by India's badminton star Saina Nehwal. They are a good mix of local and foreign shuttlers. They have four points on the table after a tie and a win in their earlier contests.
The Krrish Delhi Smashers are led by India's doubles star Jwala Gutta. They also have world No.2 mixed doubles pair Boon Heong Tan and Kien Kiat Koo and world No. 12 Wong Wing Ki of Hong Kong. They have two on the table after a tie and a loss in their previous encounters.
Squads:
Hyderabad Hotshots Team List: Saina Nehwal (c) (India), Pradnya Gadre (India), Tarun Kona (India), Ajay Jayaram (India), Taufik Hidayat (Indonesia), Tanongsak (Thailand), Goh V Shem (Malaysia), Lim Khim Wah (Malaysia), Kanthi Visalakshi P (India), Shubhankar Dey (India), C. Rahul Yadav (India)
Krrish Delhi Smashers: Jwala Gutta (c) (India), Daren Liew (Malaysia), H. S. Prannoy (India), Sai Praneeth (India), Arundhati Pantawane (India), Boon Heong Tan (Malaysia), Kien Keat Koo (Malaysia), V. Diju (India), Nichaon Jindapon (Thailand), Prajakta Sawant (India)