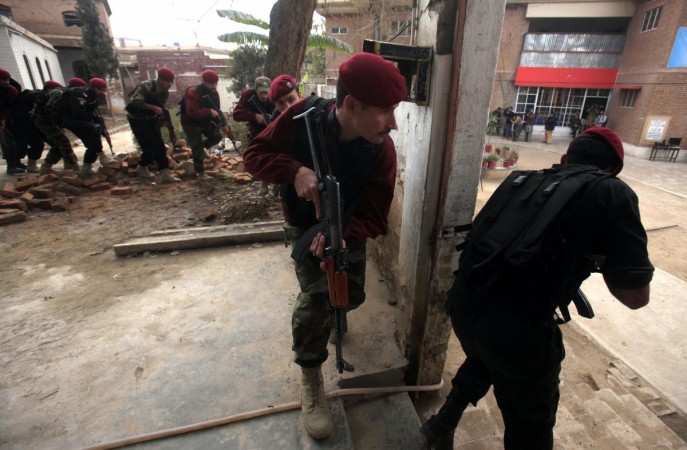 The Indian Ministry of External Affairs (MEA) has responded about an Indian national's arrest in Pakistan, for which the Indian High Commissioner was summoned Friday. The MEA said the arrested man had no links with the Indian government since his "premature retirement from the Indian Navy."
"India has no interest in interfering in internal matters of any country and firmly believes a stable and peaceful Pakistan is in the interest," the Press Trust of India quoted the MEA as saying.
Indian High Commissioner Gautam Bambawale was summoned Friday by Pakistan, a day after Balochistan Home Minister Sarfaraz Bugti claimed that an "Indian intelligence officer" was arrested from the area. Pakistan summoned Bambawale to register its protest over the "illegal entry into Pakistan by a RAW officer and his involvement in subversive activities in Balochistan and Karachi," a statement by Pakistan's ministry of foreign affairs read.
"A serving officer in the Indian Navy and deputed to the Indian intelligence agency Research and Analysis Wing (RAW)" was arrested during raids in Balochistan, security officials were quoted as saying by Dawn. He has been identified as one Bhushan Yadav, the Press Trust of India quoted Bugti as saying.
"The spy had links with separatist elements in Balochistan," a security official said to Dawn, adding that the arrested man was also involved in sectarian terrorism and terror attacks in Karachi. He has been moved to Islamabad for questioning, he added. Pakistan Foreign Secretary Aizaz Chaudhry shared information regarding the man suspected to be a RAW officer with Bambawale, foreign office sources told Dawn.
In May 2015 the media wing of Pakistan Army blamed India for funding and arming the insurgents in Balochistan. Pakistan officials were quoted by the BBC as saying that Indian spies function through a network in eastern and southern Afghanistan, where Baloch insurgents are located. Pakistan also blamed India for the unstable condition in Karachi, which consists of various ethnic groups, including Hindus, Sikhs and Christians.
In September 2015 Dawn reported the arrest of two alleged RAW officers in Parachinar in Kurram tribal agency. Another man alleged to be a RAW officer was arrested in August 2015 in Lahore, reported Dunya News, adding that he had reportedly said that Indian intelligence agents ran their network in Pakistan through mobile SIMs.