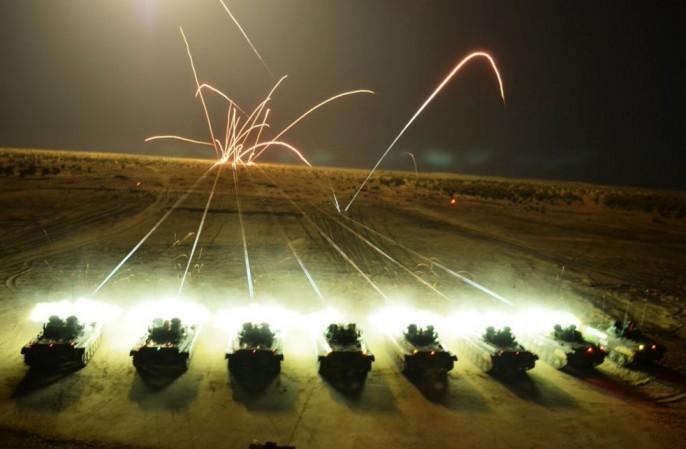 Indian Army has been looking to modernise its weaponry for some time now. It has been seeking modern assault rifles, helmets and bullet proof jackets that will protect them from enemy fire and terrorists.
India's search for weapons and accessories are likely to boost global arms suppliers, Bloomberg reported. This is because India has a 1.3 million-strong military force and has a requirement for 1,85,000 assault rifles. It also needs several thousands of helmets and bullet-proof jackets.
India seems to be giving up its home-grown assault rifles for a foreign one. It has taken it over a decade to say "yes" for foreign assault rifles.
This is directly a result of PM Narendra Modi's efforts to modernise Indian Infantry division, which has been taking the bullets from the unprovoked Pakistani forces firing or from terrorists attacking Army camps. This is a $250 billion modernisation push.
However, there are two elements to this. One is the bureaucratic delay hampering quick decisions and the government's "Make in India" push to kickstart India's defence manufacturing sector, which the military is trying to balance out with the needs of its troops and government's desire to make them domestically.
Anit Mukherjee, a former major in the Indian Army and assistant professor at Singapore's S Rajaratnam School of International Studies has pointed out to Indian bureaucracy as holding back modernisation efforts, thanks to their red tape.
Indian Infantry division mostly use the home-made Indian Small Arms System or popularly known as INSAS rifles. Soldiers of both Indian and Nepalese Army have complained about the rifle, prompting the government to issue a second global tender.
India now seeks 7.62mm model, which are more deadly than the 5.56mm INSAS rifles. The 7.62mm rifles are "shoot to kill" models, in comparison with the earlier guns that would mostly harm its target.
India issued a request for information (RFI) in August and seeks a reply from global manufacturers by 7 November.
According to the RFI, the company has to provide 65,000 rifles within 28 months of the contract being signed. It plans to issue tender by April 2017.
India had to withdraw a previous tender issued in 2011 for procuring assault rifles after the manufacturers failed to meet the multi-calibre requirements set by the army.
Apart from the assault rifles, India is also seeking to buy light automatic rifles, machine guns, and sniper rifles. India wanted to buy 43,000 carbines directly and build 1,20,000 more at domestic ordnance factories. But a tender on this was cancelled following "procedural issues."
Then there is a requirement for 3,50,000 bullet-proof jackets. Recently, to meet immediate requirement, Indian Army ordered 50,000 of them. Army is reportedly close to placing order to procure 1,50,000 lightweight helmets.
"The fact that you can't even design your own small arms system reflects very poorly on the military ecosystem in India," said Srinath Raghavan, a former infantry officer and senior fellow at New Delhi's Centre for Policy Research.
"The military innovation cycle is dysfunctional and broken down and it should be a matter of huge concern," he added.
Though the government's "Make in India" push will eventually boost defence manufacturing in India, it takes time for a foreign defence supplier to find a partner and team up. This will however not help to meet Indian Army's immediate requirements. So it is highly likely that the some of the contracted hardware would still be bought "off the shelf," the report noted.