It was in April 2017 that Tata Motors, India's home-grown carmaker, bagged an order to supply the Safari Storme 4x4 to Indian armed forces under a new category of vehicles — the GS800 (General Service 800). Almost a year later, Tata Safari Storme is now ready to begin its new innings with the Indian Army as the company has commenced deliveries of the model.
A new set of images of the Tata Safari Storme Army-spec has hit the web, showing the final SUV in a matte green paintjob. Needless to say, the Safari Storme looks just perfect in the new green! The Safari Storme replaces the aging Maruti Suzuki Gypsy, which had a decade-long association with the Indian armed forces.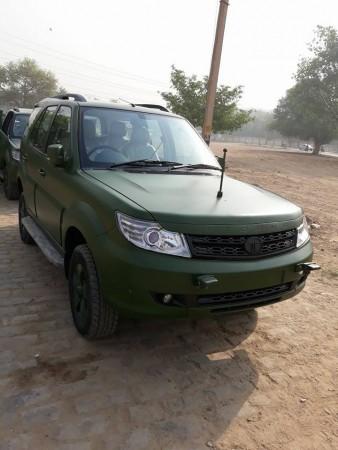 Tata Motors will supply 3,192 units of the Safari Storme to the Army. Tata Safari was selected as the new Army vehicle after it was tested for over 15 months. In the new Army-spec, the Safari gets blacked-out lamps on the front and rear. The chrome bits on the Safari Storme have been painted in black or green to keep the reflection to a minimum.
The Army-spec Tata Safari Storme gets a radio antenna on the bonnet and there are two hooks at the rear to two military-equipment and vehicles. The jerry-can holder is another addition to the model. The alloy wheels of the model also get a matte green color. There is now better underbody protection to suit the model. The heavier payload-carrying capacity, hard roofs and air-conditioning of the Safari Storme make it a better choice than the Gypsy.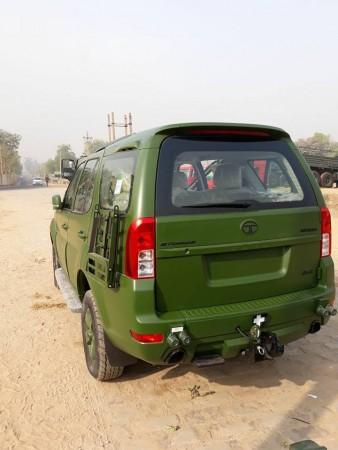 The Tata Safari Storme Army-spec comes powered by the same 2.2-liter turbocharged diesel engine, mated to a six-speed manual gearbox. The engine makes 154 bhp of peak power and 400 Nm of peak torque, and the four-wheel-drive system comes as standard for all the Army vehicles.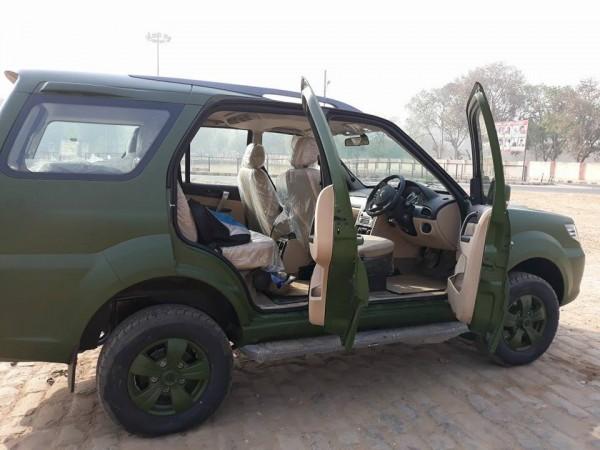 Image Source: Facebook/Sonu Pujari‎4x4 INDIA