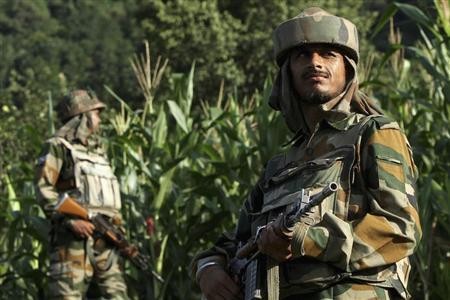 Two civilians were killed by the Indian Army in Jammu and Kashmir on Monday when the forces open fired at their private car for reportedly not stopping at a check-point.
The incident took place on Monday evening at the Budgam district in the state, when four people travelling in a Maruti car were shot at by the Indian Army in an ambush after they failed to stop at a check-point despite orders, police officials were quoted as saying by NDTV.
While two people succumbed to their injuries, two are critical and are being treated at an army base hospital.
Defence Minsiter Arun Jaitley condemned the incident and has ordered an inquiry.
"The Budgam incident in the Kashmir Valley is highly regrettable. A fair enquiry will be held and action taken against those found guilty (sic)," Jaitley tweeted late on Monday.
The Army also issued a statement in which it regretted the loss of lives in the incident and has ordered an inquiry.
According to the Kashmir Reader, soldiers of the 55 Rashtriya Rifles fired at a Maruti car at Main Chowk, Chattergam on Srinagar-Pulwama road, where the Army was conducting stop-and-frisk operations.
"The soldiers opened indiscriminate fire upon the car that was coming from Kuthpora. All the four occupants suffered serious injuries in the firing," Mohammad Maqbool, a local, told Kashmir Reader.
All four were youths, according to the news report. Among the two who died, one was a student and one was an employee at a private firm.
The report cited that protests broke out in Nowgam bypass against the killings, with protesters reportedly shouting anti-India slogans.
The Army issued a statement saying that the youths had not paid heed to signals to stop at three barriers set up by security forces.
"Three motor vehicle check points were established along the route to nab the militants. The car in which these youth were travelling did not stop at two check points when they were flagged down. They even broke through the third barrier at Chattergam leading to the security forces opening firing on them," the Army said in a statement, as reported by Press Trust fo India.
Jammu and Kashmir Chief Minister Omar Abdullah took to Twitter to condemn the incident.
Have spoken to Union Defence Minister @arunjaitley reg. yesterday's incident where army firing resulted in 2 avoidable deaths 1/n

— Omar Abdullah (@abdullah_omar) November 4, 2014
Such killings have no place in an otherwise improving security environment where militancy incidents are at record low levels 2/n — Omar Abdullah (@abdullah_omar) November 4, 2014
These deaths have served to vitiate the poll atmosphere already strained by the post flood reconstruction challenge that people face 3/n

— Omar Abdullah (@abdullah_omar) November 4, 2014