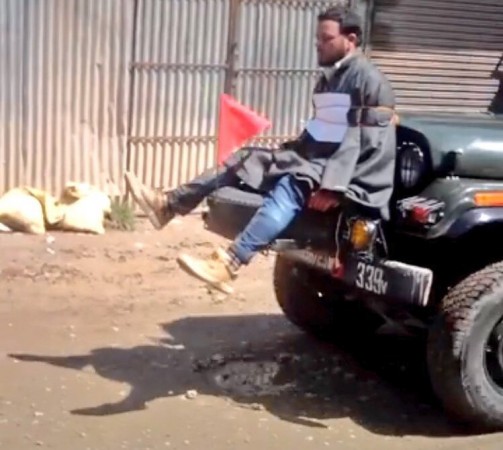 The Indian Army Major who tied a civilian named Farooq Ahmed Dar to a jeep's bonnet in Jammu and Kashmir to deter stone-pelters in April this year has been given a clean chit by the court of inquiry that was convened by the Army on April 15 following severe backlash over the incident.
The court was convened two days after the Jammu and Kashmir Police filed an FIR over the incident. The court of inquiry did not recommend any action against him. "Court martial is out of the question. Not even disciplinary action was recommended against the officer," a source was quoted by India Today as saying.
Major Nitin Gogoi is a pass-out from the Army Cadet College and belongs to the Indian Army's 53 Rashtriya Rifles. The Army Cadet College provides training to soldiers from the Army, Navy and Air Force to be commissioned as officers in the Indian Army.
The convoy of five Indian Army vehicles led by Major Gogoi reportedly consisted of soldiers, 12 election officials, nine jawans from the Indo-Tibetan Border Police (ITBP) and two policemen. Gogoi decided to tie the civilian to the jeep in order to deter stone-pelters, who had become more active in Jammu and Kashmir in recent times.
Senior army officers were glad that Major Gogoi decided to take this step to avoid injuries or casualties during polls. "He was congratulated for his acumen and presence of mind that saved many lives," a source told India Today.
Officers believe it was a "one-off incident that was blown out of proportion." Another source told the channel: "In the Army, attaining the objective is more important. The means used by the officer could have been different, but the objective was perfectly met."
Indian Army had said Dar, the civilian who was tied to the jeep, was a stone-pelter, but he denied the allegation and said he was returning home after casting his vote when the soldiers picked him up and tied him to the bonnet of their jeep, which was leading the convoy.
Former Jammu and Kashmir Chief Minister Omar Abdullah had uploaded a video on Twitter and demanded a court of inquiry into the incident. The army had also asked Dar to come to the court of inquiry, which was headed by an officer of the rank of Colonel, and record his statement.