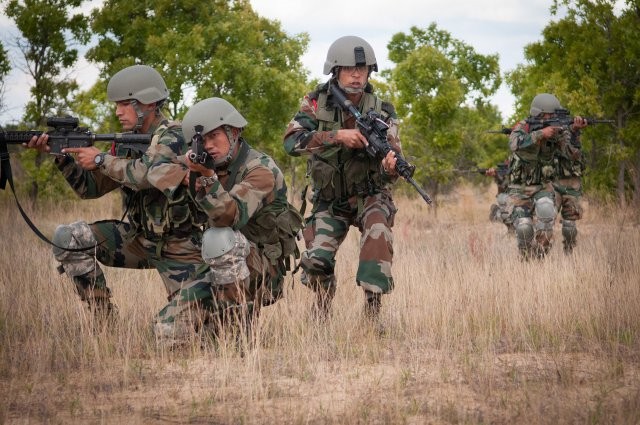 As the nation came together to salute the soldiers on Army Day on January 15, troops guarding the border in Jammu and Kashmir's Poonch district carried out a "retaliatory action" against Pakistan and killed seven soldiers.
The Indian Army took this step after an Indian soldier was killed in a Pakistani firing in Rajouri district on Saturday, January 13. "Army has carried out retaliation against Pakistani troops across Jaglote area along the LoC in Mendhar sector of Poonch district", a senior army officer told PTI.
"In the retaliatory action, there were seven fatal causalities to Pakistani troops and four others injured."
While the Indian side said that seven Pakistani soldiers were killed, the Pakistani government has confirmed four deaths until now.
Four soldiers of #Pakistan Army have embraced martyrdom in unprovoked #Indian firing along the Line of Control in Jandrot-Kotli Sector.
The troops were busy in line communication maintenance when they were fired upon and hit by heavy mortar round by Indian forces. pic.twitter.com/wHLtFdr4nR

— Govt of Pakistan (@pid_gov) January 15, 2018
The "retaliatory action" comes almost at the same time when Army Chief Bipin Rawat attended an Army Day function this morning and said that any terrorist incursion or violence by Pakistan was inexcusable.
"Pakistan Army has been continuously trying to help terrorists sneak into India along LoC (Line of Control) in J&K. We are using our might to teach them a lesson," Rawat had said. "If we are forced, then we may resort to 'other action' by stepping up military offensive."
Rawat was speaking on the occasion of the 70th Army Day, which is celebrated to remember the services of Field Marshal Kodandera M. Cariappa, the first Commander-in-Chief of democratic India. He took charge from General Sir Francis Butcher, the last British Commander-in-Chief of India, on this day in 1949.
The day also salutes the soldiers who have laid their lives to protect the country and its people and the army pays a tribute to the martyrs at the Amar Jawan Jyoti at India Gate, New Delhi.
On Monday, the army also foiled an infiltration bid in the Uri district and killed at least five Jaish-e-Mohammed terrorists during the operation. Colonel Rajesh Kalia said that these were suicide attackers trying to enter the India territory. Kalia revealed that the army "had prior information" on the infiltration and hence could act on it quickly.
"As soon as they were spotted, a joint operation was launched by the Jammu and Kashmir Police, army and paramilitary forces leading to a fierce gun battle that killed five terrorists," NDTV quoted him as saying.
Due to these threats, the state of Jammu and Kashmir has been put on high alert before Republic Day on January 26.