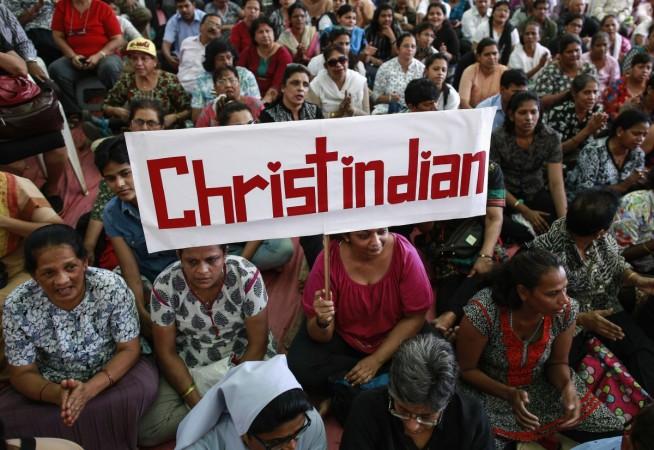 Expressing concern and distress on the persistent attacks on the Christian community in India, the Indian-American Christians have urged Prime Minister Narendra Modi to take immediate action to stop the atrocities on the religious group.
The reaction of the Indian-American Christians was a result of the cumulative effect of the continuous violence on the community in India, according to DNA.
Days after the 72-year-old nun was gang raped at Jesus and Mary convent school in West Bengal's Nadia district, which incited massive protests all over the globe, the Federation of Indian American Christian Organisations of North America (FIACONA) put forward an appeal to Modi to check the hostilities against Christians.
"Though, the rape of a 71 year old Catholic nun at the Jesus and Mary convent in the town of Ranaghat in Nadia district of West Bengal State last Saturday was first reported as common robbery incident, people on the ground inform us that the reported robbery could be merely a cover," FIACONA president John Prabhudoss was quoted as saying.
He said that the organisation was concerned about the slow progress of the law in punishing the culprits involved in the heinous crime. Prabhudoss said that the organisation suspects that influential political groups are safeguarding the offenders.
While the FIACONA president said that the organisation was happy with Modi's initiative to solve the case, he also expressed disappointment over BJP government's silence on the Haryana issue, where a church that was under construction was knocked down by sister organisations of the Saffron party.
In this incident, various right-wing members removed the holy cross and put up a statue of Hanuman with a flag, whcih featured inscription of Vishwa Hindu Parishad.
"Statements like the one from the chief minister of the state of Haryana only creates the image that the BJP would try and protect the perpetrators of such hateful violence regardless of what Prime Minister Modi has promised," a statement issued by FIACONA said.