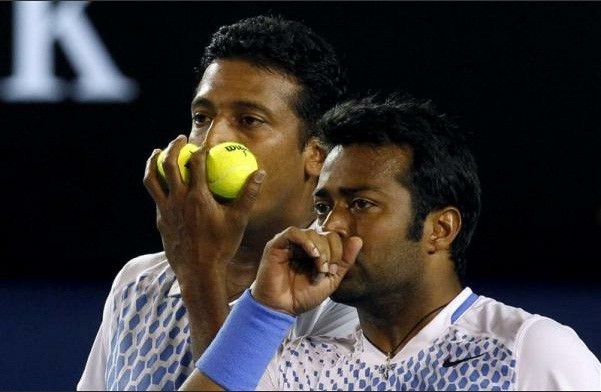 It looks like India's medal hope in the London Olympics 2012 from tennis has gone with the wind even before submitting the team list to the International Tennis Federation (ITF), with the fight between the All India Tennis Association (AITA) and the players getting ugly, following Mahesh Bhupathi's refusal to play with his once successful partner Leander Paes.
All hell broke loose on Friday when the AITA announced Leander Paes and Mahesh Bhupathi as India's official doubles entry for the upcoming London Olympics.
"Discussions were held with Leander Paes, Mahesh Bhupathi and Rohan Bopanna on teleconference. Having heard the three players, the selection committee decided that the most appropriate pairing for the Olympics doubles will be Leander Paes and Mahesh Bhupathi," said a statement from AITA.
However, Mahesh Bhupathi is hell-bent that he pairs with Rohan Bopanna and not with Leander Paes. Bhupathi and Bopanna made a joint statement, expressing their strong desire to play together.
"We have worked tirelessly on our pairing, choosing to break winning partnerships and put aside personal interests to combine forces to represent the nation. We have maintained our position as one of the top men's doubles teams in the world," they said in a joint statement.
"We have repeatedly communicated to the AITA our desire to be considered for selection only as a team. To not send one of the best tennis teams in the world to the Olympics and to instead nominate one that has had four previous unsuccessful attempts fails to put the interests of the nation first," they added.
The fight is getting uglier with Mahesh Bhupathi threatening to withdraw from the Olympics and the AITA officials branding the Indian tennis ace as "unmature" for taking the issue to the media.
AITA secretary-general Anil Khanna maintained that the players have to accept the decision of the AITA as they get $6,000 every month from the government in preparation for the Olympics.
Meanwhile, Leander Paes camp has not joined the fight. Leander's dad Dr Vece Paes said that his son will accept the decision of the AITA.
Bitter Relationship Between Leander Paes and Mahesh Bhupathi
The Indian Duo has a 303-103 career record together. They were world number 1 doubles pair at one point of time, winning three grand slam titles together. But that doesn't mean they get along well. They are known for sweet-sour relationship.
The rift between them started in 2000 when Paes moved on after Bhupathi underwent shoulder surgery in November 1999. They paired again before the Sydney Olympics but split in April 2002. They came back together for the Athens Olympics in 2004 but parted ways soon after the event.
Will the duo come back together yet again for the London Olympics 2012? It's a million dollar question now with Mahesh adamant not to go by the decision of the AITA.