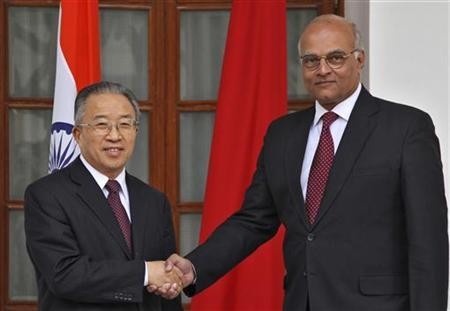 National Security Advisor Shiv Shankar Menon on Tuesday revealed that India was subjected to nuclear threats from global powers at least thrice before the nation declared itself as a nuclear weapon state in 1998.
"On at least three occasions before 1998, other powers used the explicit or implicit threat of nuclear weapons to try and change India's behaviour," Menon said at the National Outreach Conference on Global Nuclear Disarmament in New Delhi, according to the Press Trust of India.
The conference was organized by the Indian Council of World Affairs and supported by the external affairs ministry to revive Rajiv Gandhi Action Plan for a nuclear weapons free world.
Not elaborating on the world powers, Menon added that the possession of nuclear weapons enhanced national security and has deterred many nuclear threats against India. In an apparent comparison with Pakistan's nuclear arsenal, the security advisor said that India's weapons act as a deterrent against any possible attacks and are not meant for military action.
"Unlike certain other nuclear weapon states, India's weapons were not meant to redress a military imbalance, or to compensate for some perceived inferiority in conventional military terms, or to serve some tactical or operational military need on the battlefield," he said.
Strategic affairs expert Brahma Chellaney, who spoke to Hindustan Times, identified US as one of the global powers to have used explicit threats to India during the war with Pakistan in 1971.
The conference made it clear that India will not use its nuclear weapons until global disarmament is accomplished and will continues to possess weapons as a shield for the country. External Minister S M Krishna, who also addressed the gathering of nearly 1,500 students from around 37 universities laid stress on India's obligation on not to use its nuclear arsenal as war-fighting weapons.
"Nuclear weapons today are integral part of our national security and will remain so, pending non-discriminatory and global nuclear disarmament," Krishna said.