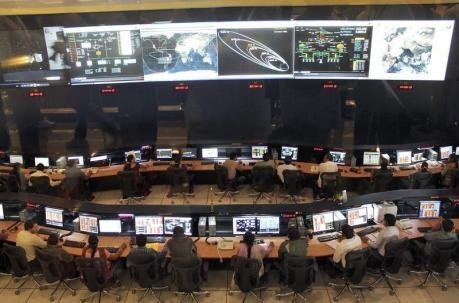 India's Mars Orbiter Mission 'Mangalyaan' was successful in leaving the Earth's orbit during the wee hours on Sunday and is on its way to reach the Red planet.
As planned, the Indian Space Research Organisation (ISRO) began the crucial manoeuvre at 12.49am. The complex operation lasted for 23 minutes, in which India's maiden spacecraft was given a push to escape Earth's gravity.
"The Trans Mars Injection (TMI) operations, which began at 00.49 hours (IST) completed," ISRO said.
During the operation, Mangalyaan's 440 Newton liquid engine was fired for about 23 minutes to provide the spacecraft with a velocity increment of 648 metres/second.
"Following the completion of this manoeuvre, the Earth orbiting phase of the spacecraft ended. The spacecraft is now on a course to encounter Mars after a journey of about 10 months around the Sun," ISRO, with its headquarters in Bangalore, said in a statement.
About 250 ISRO scientists had monitored the spacecraft's propulsion, telemetry, sensors, navigation and inertial systems before the Trans Mars Injection (TMI) on Friday.
India's Mars Orbiter had been revolving around Earth until it was given the extra kick on Sunday to begin its over 750 million km journey to Mars.
The 1,350-kg Mangalyaan will cover over 2.5 million km every day in space till it is slowed down to be captured by Mars gravitational pull.
The ₹450-crore mission to Mars was launched on 5 November from Sriharikota in Andhra Pradesh and made international headlines.