The 29-hour countdown for the ₹200-crore satellite project will end at 4.50 pm on Monday, when India will launch the Geosynchronous Satellite Launch Vehicle-D5 (GSLV-D5), carrying a communications satellite GSAT-14.
The GSLV-D5 rocket is 50 metres high and weighs a massive 415 tonnes. The rocket alone costs ₹160 crore, and the satellite at ₹45 crore.
GSLV D5 is a three-stage launch vehicle with solid, liquid and cryogenic stages.
It is designed to inject 2 Ton class of communication satellites to Geosynchronous Transfer Orbit (GTO). The satellite will be used for telecommunication purposes.
The Indian Space Research Organisation's (ISRO) will launch the indigenous cryogenic satellite for the third time as previous two consecutive GSLV launches in 2010 had failed.
GSLV-D5 will lift-off from Sriharikota in Andhra Pradesh.
ISRO announced that the first and second stages of the launch vehicle are similar to the ones flown during the 2010 missions. The first and second stages are fired with solid fuel and liquid fuel, respectively. The third stage is the indigenous cryogenic stage.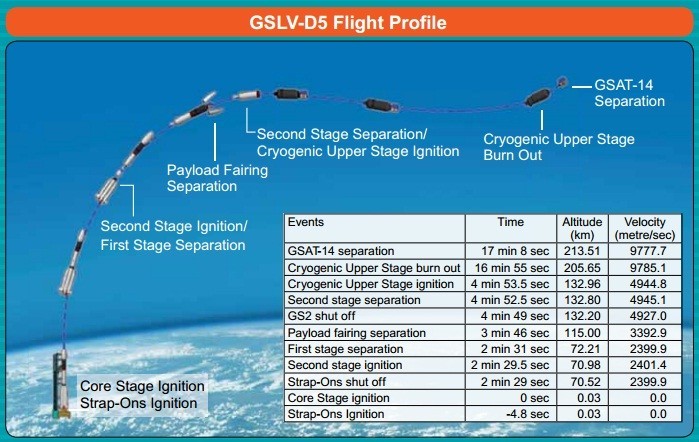 After its flight, the GSLV has a 17-minute window to put the satellite into the GTO above Earth.
The first ever attempt to use such an indigenous cryogenic engine was made on 15 April, 2010 to power GSLV-D3 but it turned out to be a failure.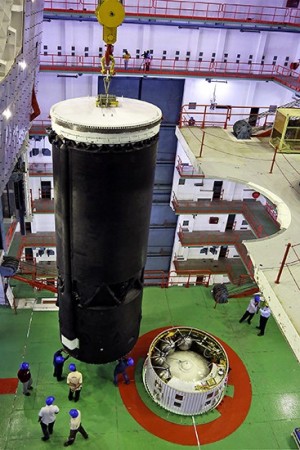 Chairman of ISRO, K Radhakrisnan, told NDTV that lessons have been learnt from the 2010 twin disasters and that 'minor modifications and extensive ground testing' have been conducted.
The countdown to the launch began at 11.50 am on 18 August and if successful, India will have mastered the cryogenic technology.