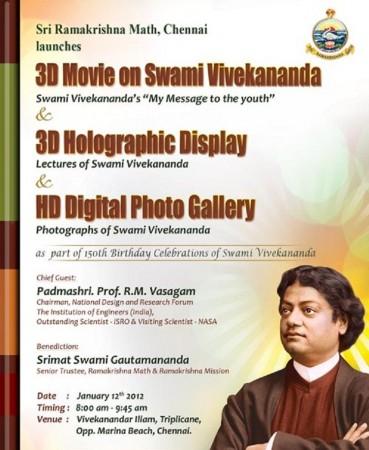 For the first time in India, a short, stereoscopic 3-D movie on Swami Vivekananda will be launched by the Chennai branch of Sri Ramakrishna Math at Vivekanandar Illam, Tamil Nadu, on Jan. 12 (the 150th birth anniversary of Swami Vivekananda) which is celebrated as National Youth Day in India.
The short movie aims at re-creating Swami Vivekananda with a more realistic look and feel, delivering his inspiring lectures for the youth of modern India, said a statement by Sri Ramakrishna Math.
It also mentioned that in commemoration of the 150th birth anniversary of Swami Vivekananda (2011-2014), Sri Ramakrishna Math has taken up this activity as the first phase of project "Experience Vivekananda."
Experience Vivekananda Project is an initiative to spread Swami Vivekananda's personality and message through state-of-the-art multimedia galleries at Vivekananda House with short inspirational videos, 3-D animated movie clips and a holographic presentation, added the statement.
Vivekanandar Illam, earlier known as Ice House or Castle Kerna, is the place where Swami Vivekananda stayed for nine days on his return from the West in February 1897.
The patriot saint, known for his deep love of India and it's heritage, met multitudes of people who thronged the place to meet him.
Further, the statement also mentioned that Chennai's first 3-D holographic display system will also be inaugurated on the same day. The system allows users to see Swami Vivekananda in a 3-D perspective from a very close range without using 3-D glasses, said the statement.
Padmashri R.M. Vasagam, renowned ISRO space scientist and former Vice-Chancellor Anna University, will inaugurate the 3-D Theatre facility at Vivekanandar Illam.