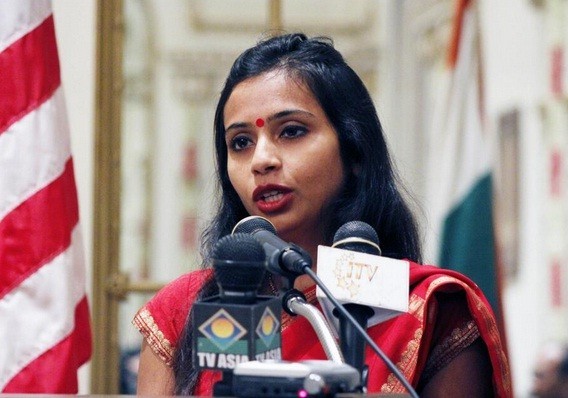 The Deputy Consul general for India in New York has been released by paying a $250,000 bond on Friday, 24 hours after she was detained over charges of visa fraud.
As per PTI report, India's Deputy Counsel General Devyani Khobragade, 39, was arrested by US law enforcement authorities on Thursday morning while she was dropping her daughter to school.
Preet Bharara, Manhattan's federal prosecutor, announced charges that Khobragade allegedly presented fraudulent and materially false document to the US Department of State in support of a visa application for her babysitter and housekeeper.
Moreover, the deputy counsel general mentioned in the visa application that the domestic help was paid $4,500 per month, equalling an hourly salary of $9.75.
According to the allegations, Khobragade paid the household employee, who worked from approximately November 2012 till June 2013, less than the required $9.75 per hour.
Spokesperson of the Ministry of External Affairs, Syed Akbaruddin said at a press conference that the nation is 'shocked and appalled' the way Khobragade was 'humiliated by the authorities'.
"We have taken this episode forcefully with the US government embassy in the Washington. We are reiterating to the US embassy here (in India) that this kind of treatment to one of our diplomats is absolutely unaaceptable
The Indian Embassy issued a statement regarding the matter. Read below
We have been informed that Deputy Consul General of India in New York, Dr. Devyani Khobragade, was taken into custody by law enforcement authorities in New York in the morning of December 12, 2013 while she was dropping her daughter at school. Dr. Khobragade was later released that same evening.
Action was apparently taken against Dr Khobragade on the basis of allegations raised by the officer's former India-based domestic assistant, Ms Sangeeta Richard, who has been absconding since June this year. In this context the Delhi High Court had issued an-interim injunction in September to restrain Ms Richards from instituting any actions or proceedings against Dr Khobragade outside India on the terms or conditions of her employment.
The US Government had subsequently been requested to locate Ms Richard and facilitate the service of an arrest warrant, issued by the Metropolitan Magistrate of the South District Court in New Delhi under Sections 387, 420 and 120B of the Indian Penal Code.
The Embassy of India in Washington DC had immediately conveyed its strong concern to the U.S. Government over the action taken against Dr Khobragade. The US side have been urged to resolve the matter with due sensitivity, taking into account the existing Court case in India that has already been brought to their attention by the Government of India, and the Diplomatic status of the officer concerned.
Media Briefing by MEA spokesperson